"Asteria" is latin for star. It was also derived from asters which are daisy-like perennials with starry-shaped flower heads. Its logo consists of a mark that showcases a crossover between a star and a full-bloomed flower.
The type face for Asteria is a freehand stroke which suggests playfulness and freedom, while "Residences" is in all-caps Sans to express stability and firmness.
For starting families and accomplished young professionals in Parañaque, as well as parts of Muntinlupa and Las Piñas, Asteria Residences is a medium rise condominium that offers a secure residence with access to numerous places of interest complimenting the emerging dynamic lifestyle in the South.
In light of this, its well-designed units and resort-themed amenities give the sense of comfort and relaxation that the South is known for. With all of these at a suitable price range, Asteria Residences is a place that is refreshingly vivid
This is because of DMCI Homes' commitment to creating healthy communities with its proven track record as a triple-A developer that continuously innovates for the benefit of its clientele.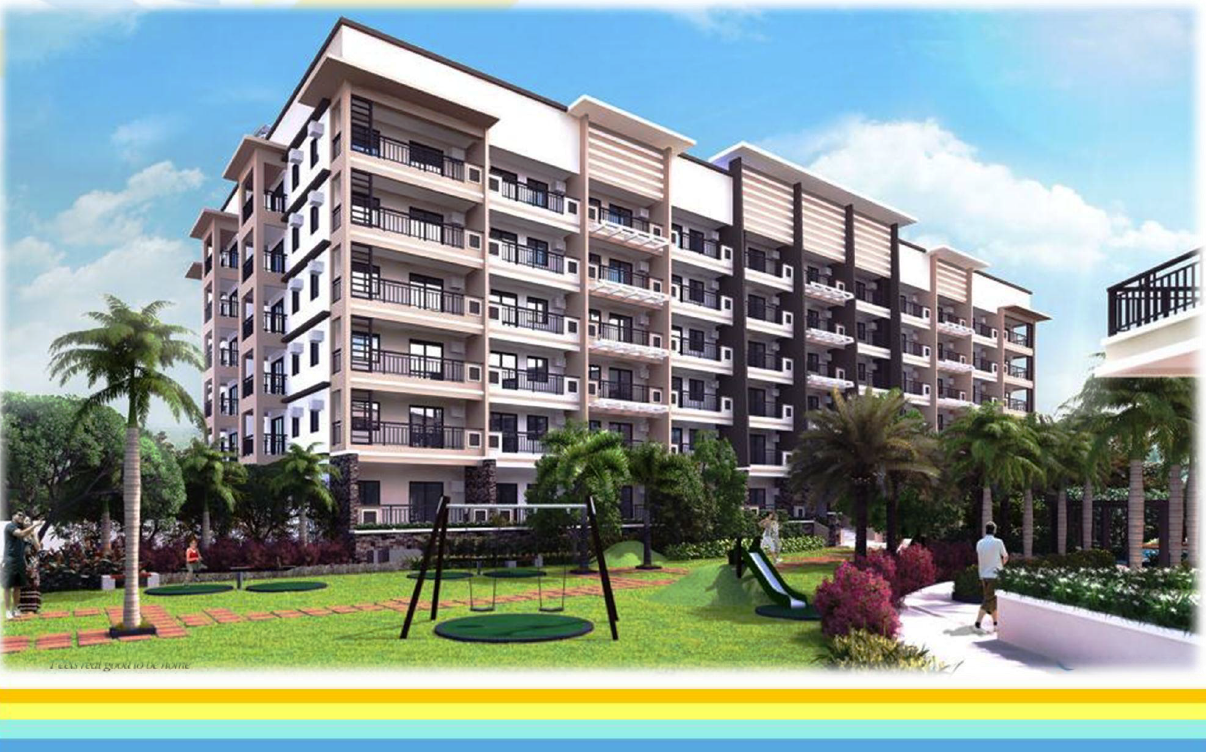 PROJECT OVERVIEW
Size of Development 2.7 hectares
Project Type Medium Rise Building Development
Theme Neo-Asian Minimalist
Location San Pedro Street, San Antonio Valley 2, Barangay San Isidro, Sucat, Parañaque
Unit Mix 2-BR and 3-BR Units
Number of Units 868
Buildings 4 buildings with 2-level parking areas 3 buildings w/a single-level parking area
Number of Floors 6 residential floors per building
Number of Parking Slots 744
Parking Ratio 86%
Amenity Area Indoor: 1,460 square meters
Outdoor: 6,385 square meters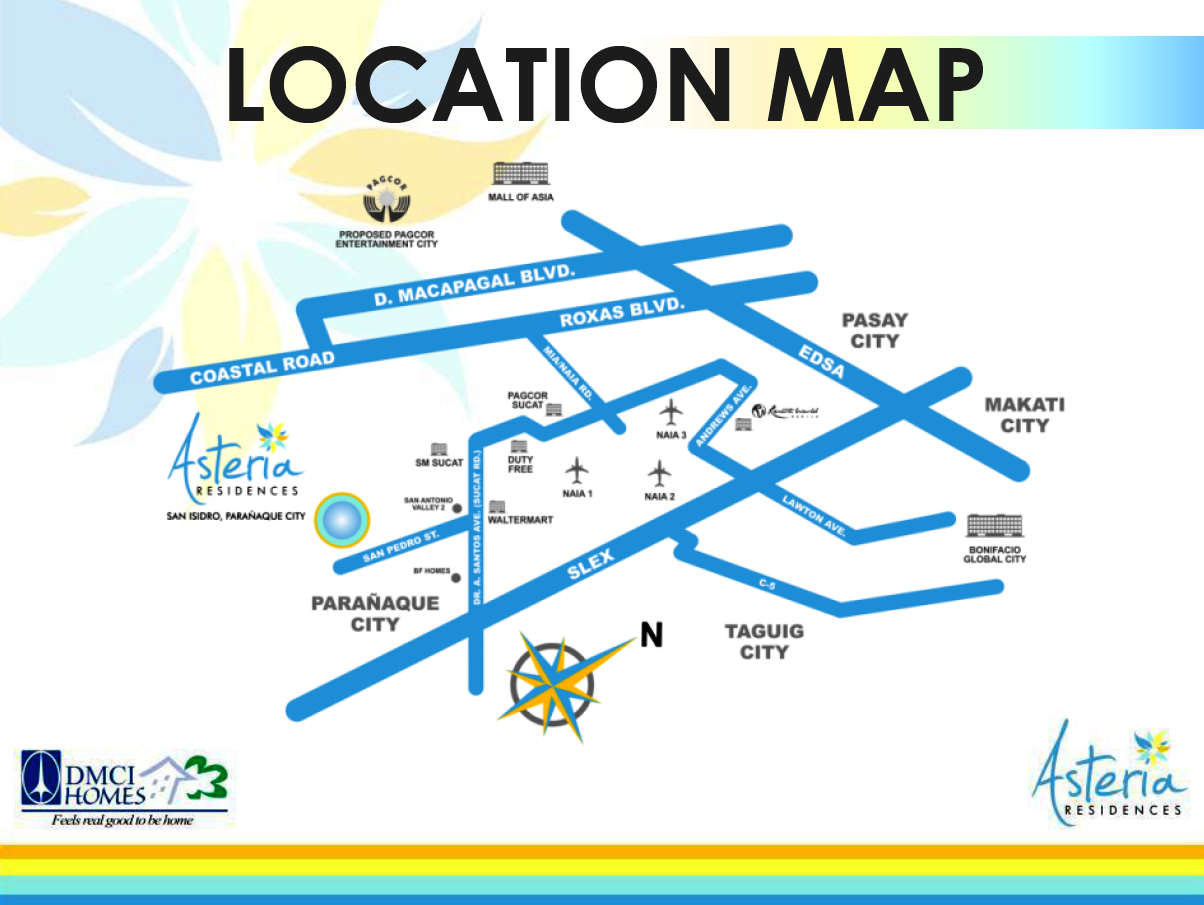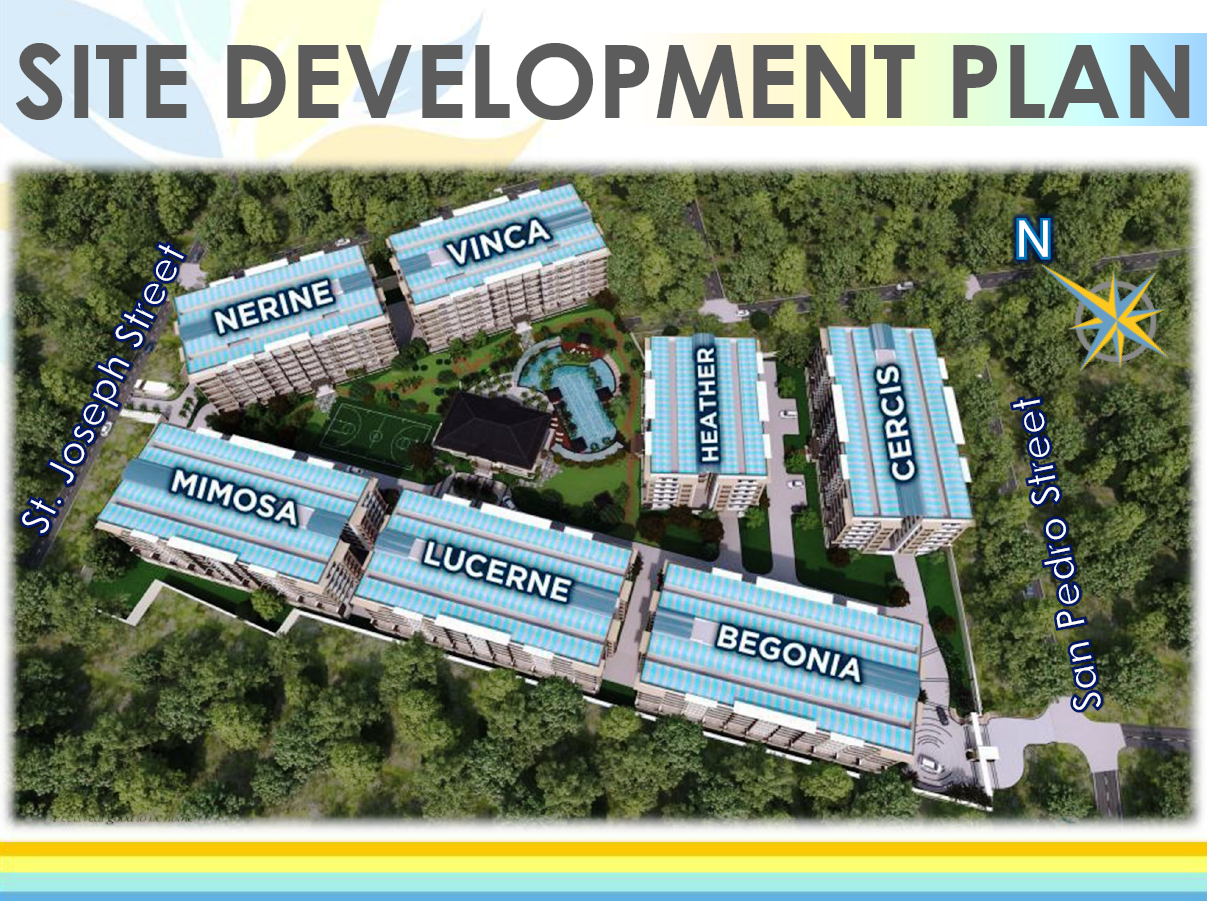 ➤ No. of Buildings : 7 Target RFO
1. Nerine Apr 2017
2. Vinca Jul 2017
3. Mimosa Jan 2018
4. Lucerne Apr 2018
5. Begonia Jun 2018
6. Heather Aug 2018
7. Cercis Nov 2018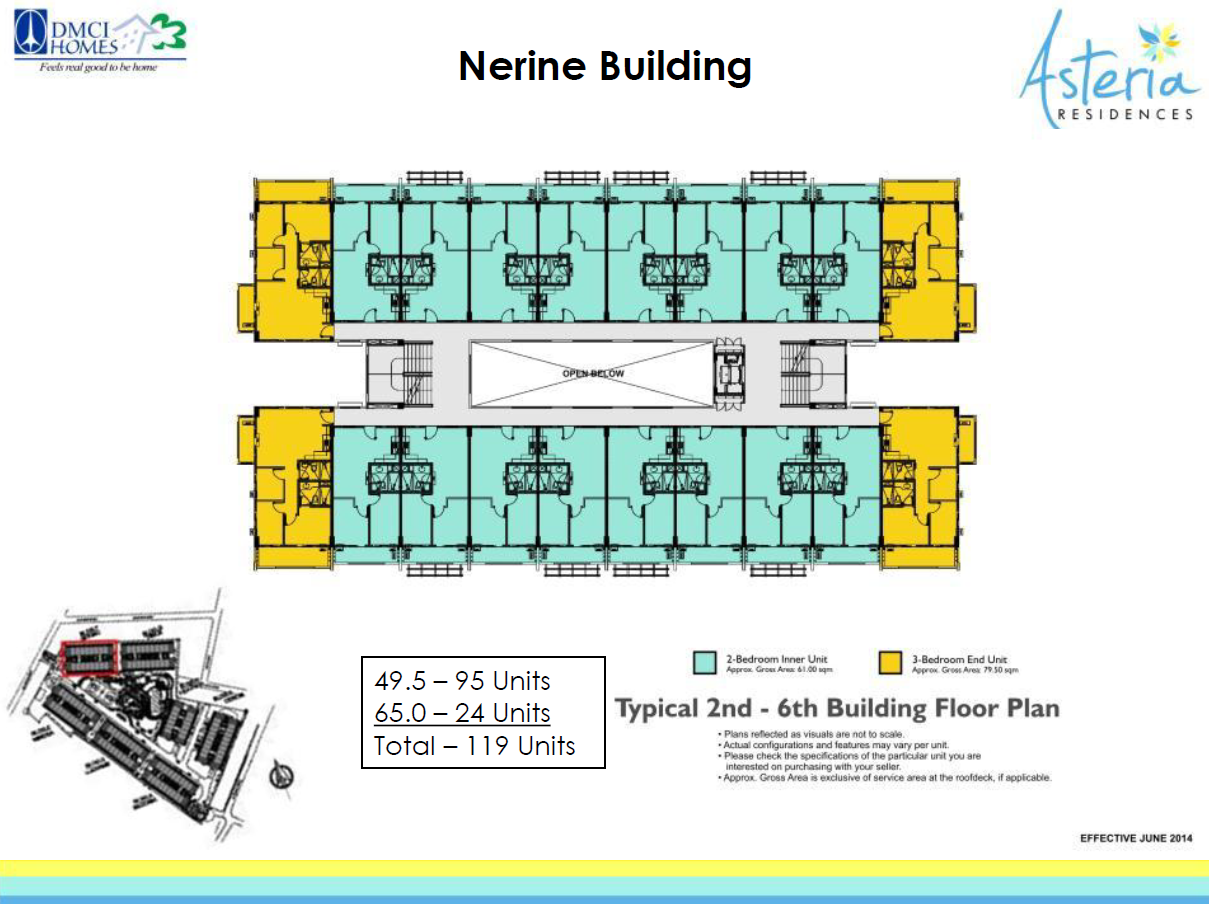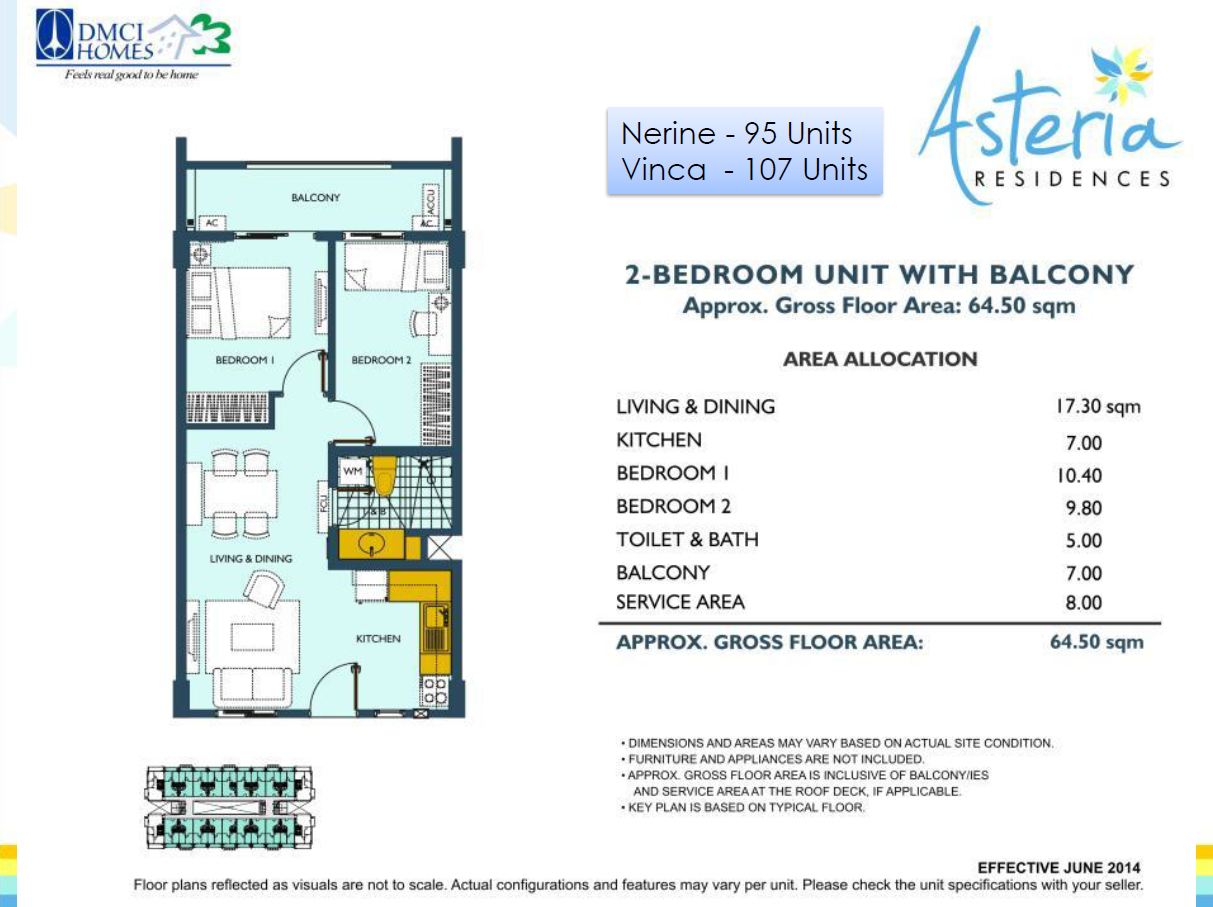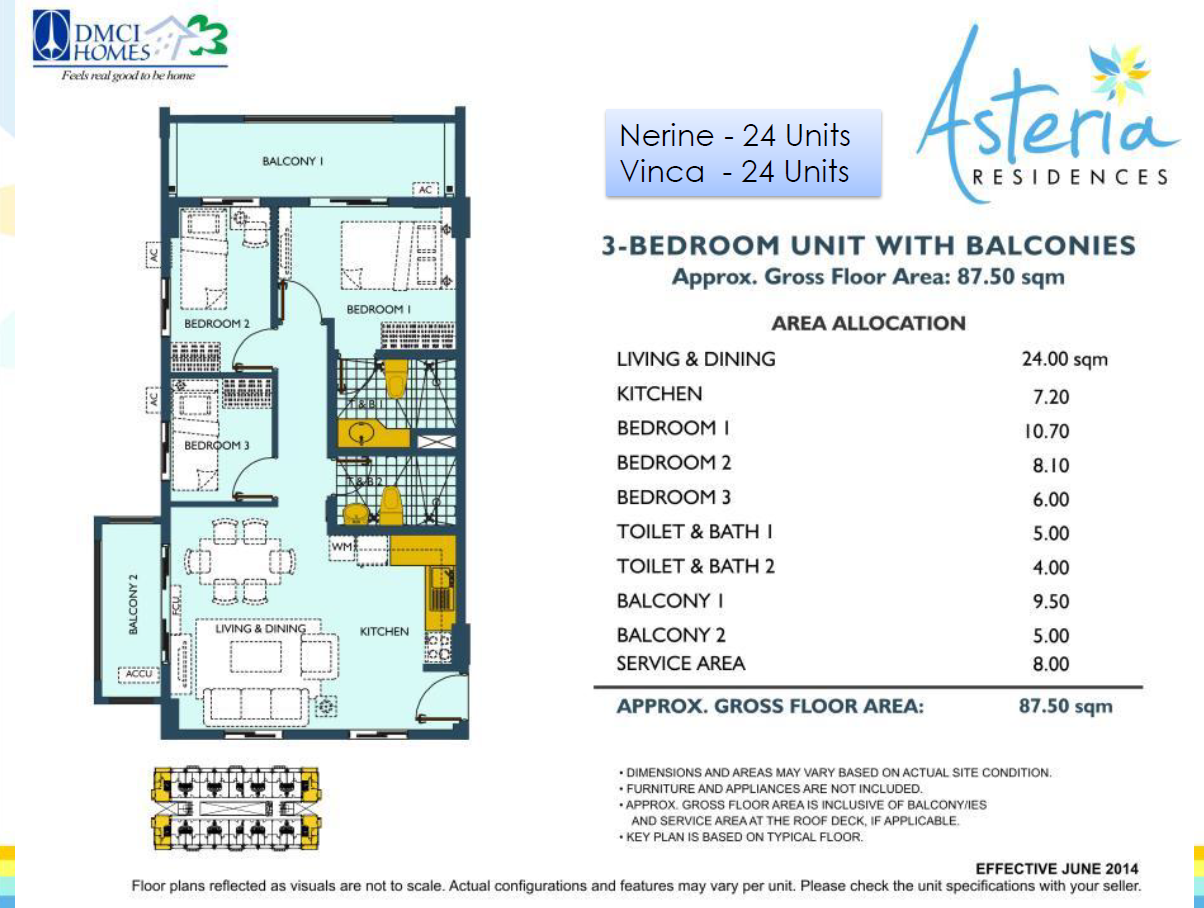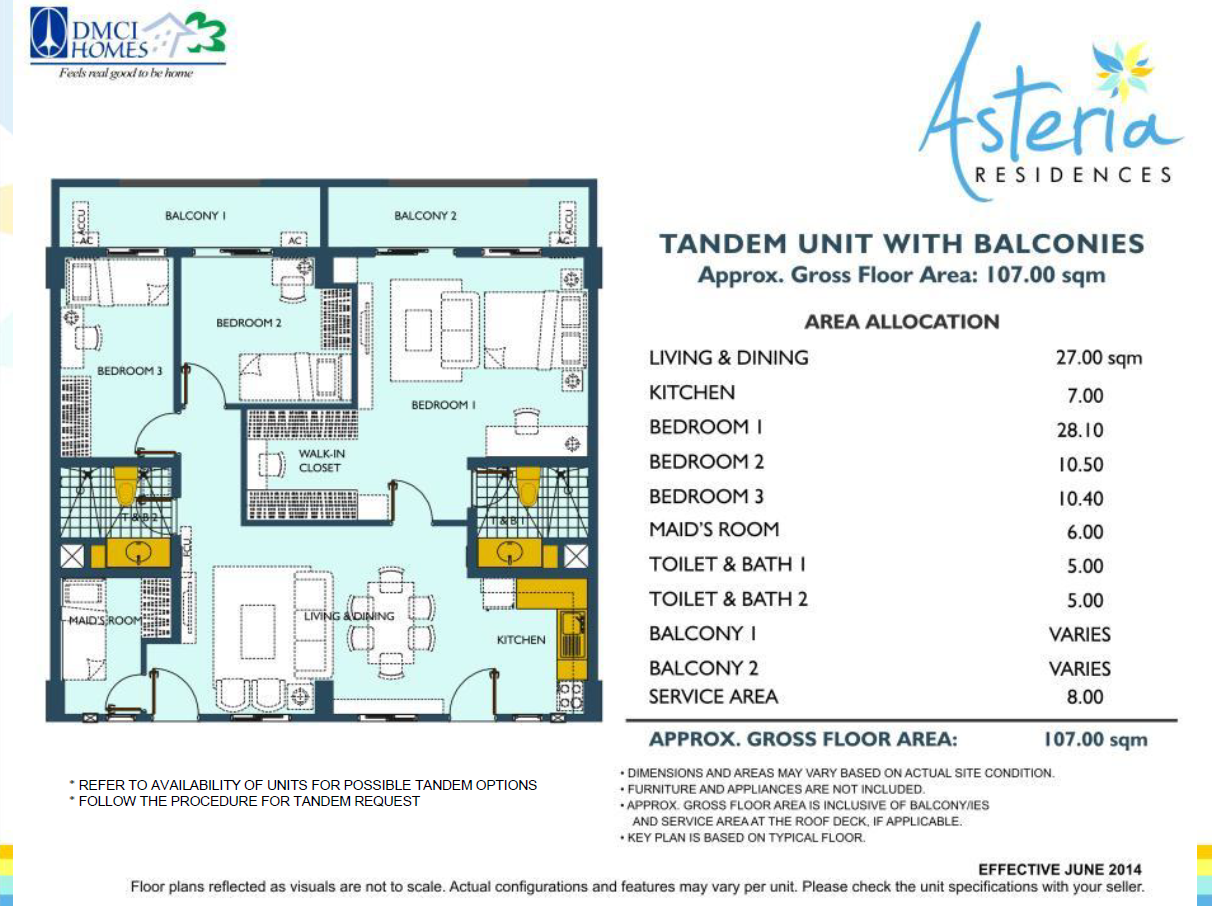 LIST PRICE:
Php 2.918M ~ Php 5.164M
2BR - Inner Php 2,918,000 ~
Gross Area : 72.5 sqm
(Unit Area: 49.5 sqm | Balcony Area: 15 sqm | Service Area: 8 sqm)
32BR - Inner Php 4,182,000 ~
Gross Area : 87.5 sqm
(Unit Area: 65 sqm | Balcony Area: 14.5 sqm | Service Area: 8 sqm)
Reservation Fee:
Residential Unit: Php 20,000
Parking Space: Php 10,000
10% Discount for Spot Cash Payments.
Downpayment:
Minimum of 15% of List Price.