SMDC Sea Residences is a bold new concept in urban living within the Mall of Asia Complex. Six towers house spacious condominium units offering spectacular views of either Manila Bay or the stunning Makati Skyline. And within the development, you'll find a tropical oasis with trees lining the vast landscape area, swimming pools, wet and dry playgrounds, with outdoor living spaces, a multi-purpose area, commercial spaces to compliment residents' needs. Amenities extend to the Mall of Asia complex where you will find a world-class shopping mall, SM Arena, SMX Convention Center, nearby church and restaurant rows by the bay.

GROUND FLOOR
- Four (4) Grand Entrance Lobby with Lounge Areas
- Four (4) Elevators each for Towers A and B
- Three (3) Elevators each for Towers C, D, E and F
- Commercial Areas

RECREATIONAL FACILITIES AND AMENITIES

EVENTS AREA
- Multi-purpose Room
- Pool Deck Area

KIDS AREA
- Childrens Playground extending to the vast garden space
- Wet Play Area
- Toddlers Wading Pool
- Kiddie Pool



ADULT AREA
- 15-meter Lap Pool
- 20-meter Lap Pool
- 25-meter Lap Pool
- Modern Tropical Garden
- Outdoor Living Areas


BUILDING FACILITIES AND SERVICES
- Professional Property Management Services
- Professional Leasing Services
- Vast Modern Australian-inspired Tropical Landscape Area
- 70% of the Units have Balconies
- Automatic Fire Detection and Alarm System
- Stand-by Generator for Common Areas and Select Residential Outlets
- Natural Ventilation for Hallways
- Sufficient Fire Exits
- Environmental Feature of Rain Water Collection for Landscape Watering
- Centralized Cistern Tank
- Overhead Water Tank
- Sewerage Treatment Tank
- Commercial Spaces
- 24-hour Security
- Cable Ready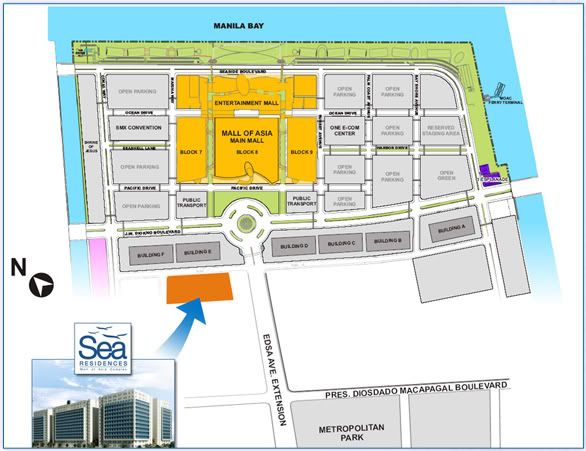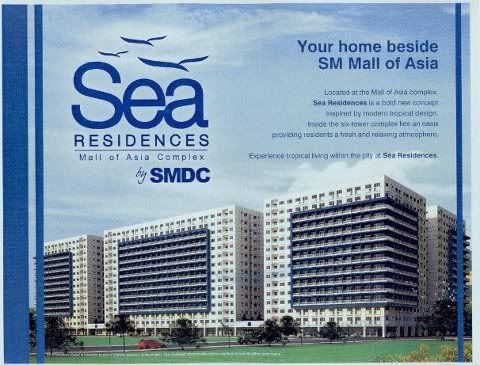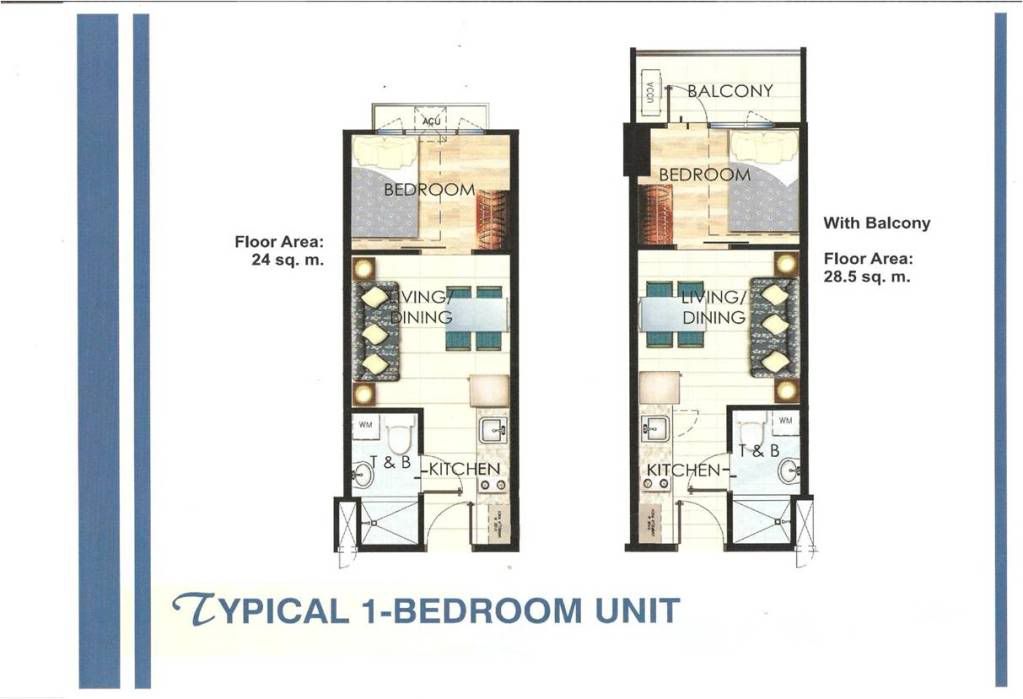 READY FOR OCCUPANCY
BASIC FINISH
1 Bedroom (24 sqm.) P 2.7M - 2.9 M or $ 69,000 USD
1 Bedroom with Balcony (28.5 sqm.) P 3.0- 3.5 M or $ 83,000 USD
1 Bedroom (32 sqm.) P 3.6M or $ 85,000 USD
1 Bedroom with Balcony ( 32.5 sqm.) P 3.5 – 3.8 or $ 85,000 USD
2 Bedroom with Balcony ( 48 sqm.) P 5.3 – 5.5M or $ 130,000 USD
2 Bedroom (67 sqm.) P 7.3 M $ 173,000 USD
2 Bedroom with Balcony ( 91.93 sqm.) P 10.3M – 11M or $ 262,000 USD
FULLY FURNISHED
1 Bedroom (24 sqm.) P 2.7- 3.3 M or $ 78,000 USD
1 Bedroom with Balcony (28.5 sqm.) P 3.2- 3.4 M or $ 81,000 USD
1 Bedroom (32 sqm.) P 3.8M – 4.1M or $ 97,000 USD
1 Bedroom with Balcony ( 63 sqm.) P 7.1M or $ 169,000 USD
Additional Discount for CASH BUYER
More than just a Mall, the SM Mall Of Asia is a tourist destination that has raised the standard of shopping, leisure and entertainment in the Philippines.
Almost four hectares of floor area. 8,000 parking slots. 5,000 square meters allotted for public utility vehicles. 100 slots for tourist buses. Almost one kilometer in length, and a perimeter of almost 2 kilometers. Close to 2 million bags of cement used to build it and 44,000 gallons of paint consumed. It also has 1.9 million floor tiles installed in it. One wonders if this scale of development was for an airport terminal, a seaport, or an industrial complex.
Interestingly, however, these facts speak about the Philippines' largest and world's third largest mall, the 407,000 square-meter SM Mall of Asia.
The Philippines' largest privately-run exhibition and convention facility, the SMX Convention Center is an ideal venue for international exhibitions, large-scale local trade events, major medical and other industry conventions and corporate and social functions. The building, located in the Mall of Asia Complex, Pasay City, is one of the best flagship establishments of the Philippine MICE industry.

SMX is positioned to be the top-of-mind venue for any type of event, offering its clients exceptional space and extraordinary service in an excellent location. We want to be known as the best place for all important events in the Philippines and in the Asia-Pacific Region, leading in terms of amenities, space, capacities, and service.

The 46,647-square meter building boasts of 21,000 square meters of flexible leasable space. The SMX Convention Center offers four Halls, five Function Rooms and twelve Meeting Rooms.
A state-of-the-art office building designed for e-commerce, contact centers, business process outsourcing (BPO) companies, customer relationship management (CRM) services and specialized office uses.
Efficient, thoughtful, professional, caring, flexible – this is how clients have described the dedicated, fastidious team at One Esplanade. The company is adept at managing a wide variety of events from small residential seminars to large national and international conferences. Its clients include professional, academic, scientific and agricultural associations, local and national government departments, and corporate groups. One Esplanade provides expert assistance with any aspect of events management from initial publicity to post-event publications. The company maintains a highly professional approach, attention to detail and willingness to co-operate fully with the organising committee, ensuring the client of the quality of its service.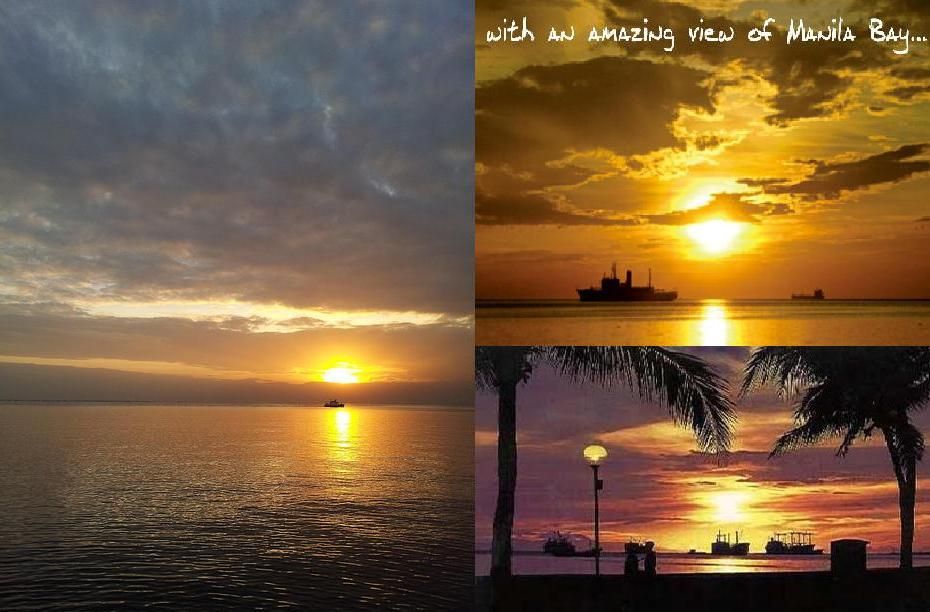 San Miguel by the Bay is fast-becoming a crowd favorite through its relaxing scenery, delectable cuisine, and upbeat entertainment offerings. One of the newest attractions at the Mall of Asia Complex, San Miguel by the Bay stretches to 1.5 kilometers of picturesque esplanade to complement the scenic view of the famous
Manila Bay
. A grand fountain is also situated in the outdoor strip, captivating guests and spectators through its colorful and dancing water display. While enjoying the soothing ambience of the strip, San Miguel by the Bay is also home to popular bars, restaurants, and dining establishments. It features Hooters, Harbor View Restaurant, The Pit, Padi's Point, Pier One Bar and Grill, Claire de la Fuente's Grill and Seafood Restaurants.
Fireworks display photo taken from Sea Residences
Future Developments in the Bay Area
TOP REASON TO CHOOSE SM RESIDENCES
Premium locations close to SM Malls.
A distinct character for each community.
Affordable Price at Flexible financing plans.
The SM name, your assurance of quality and a guarantee of completion.
Five-Star Quality Homes IN PRIME LOCATIONS that's Affordable


Read more: http://www.sulit.com.ph/index.php/view+classifieds/id/6486860/Sea+Condominium+in+Pasay+City+near+SM+Mall+of+Asia+by+SMDC?referralKeywords=azarealty&event=Search+Ranking,Position,2-18,38