Amaia Land Projects!!
- Backed by Ayala Land's standards of excellence and track record, your home in Amaia Skies is truly an investment worthy of your hard work. Makati Development Corporation's unbeatable track record in construction guarantees on-time completion and delivery, with all units finished and in perfect moving in condition. Long-term quality is assured as well, at it is managed by no less than the Ayala Property Managements Corporation. Should you choose to rent your unit out, you can avail of their excellent leasing services too.

- With easy and flexible payment schemes available, the home you've always wanted is now truly within your reach. So move in to Amaia Skies today and get ready to fly!
Corner 5th Avenue P. Tuazon

Cubao

Quezon City
5-10 Minutes walk going to,Araneta Center, Gateway, SM Hypermarket, AliMall, Bus
Terminals, MRT Araneta and more.
TURN OVER DATE:
TOWER 1: 2015
Studio Type, Model Unit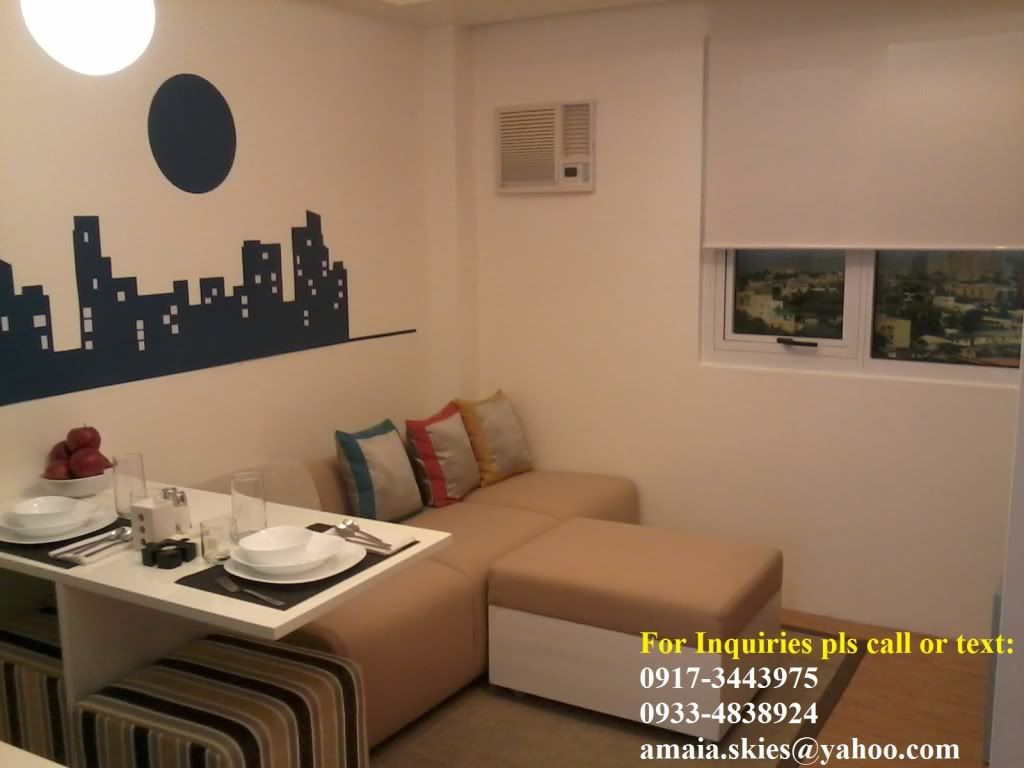 One Bedroom, Model Unit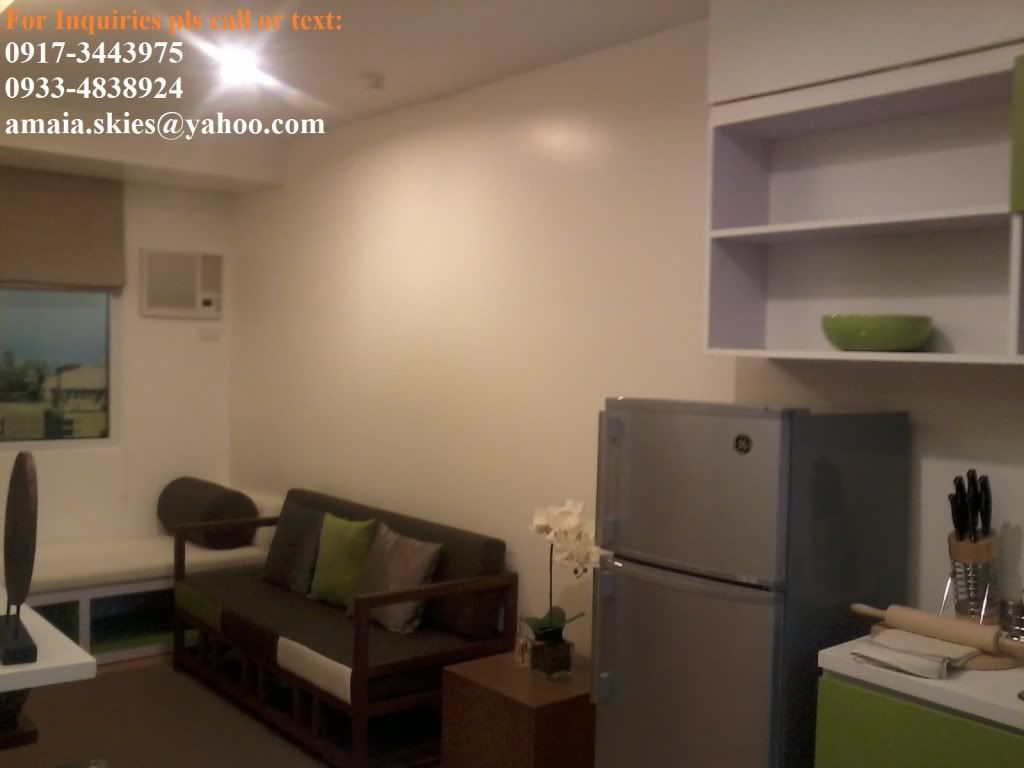 Amaia Skies Sta. Mesa and Avenida Model Unit
TURN OVER DATE:
TOWER 1 of Sta.Mesa & Avenida: 2016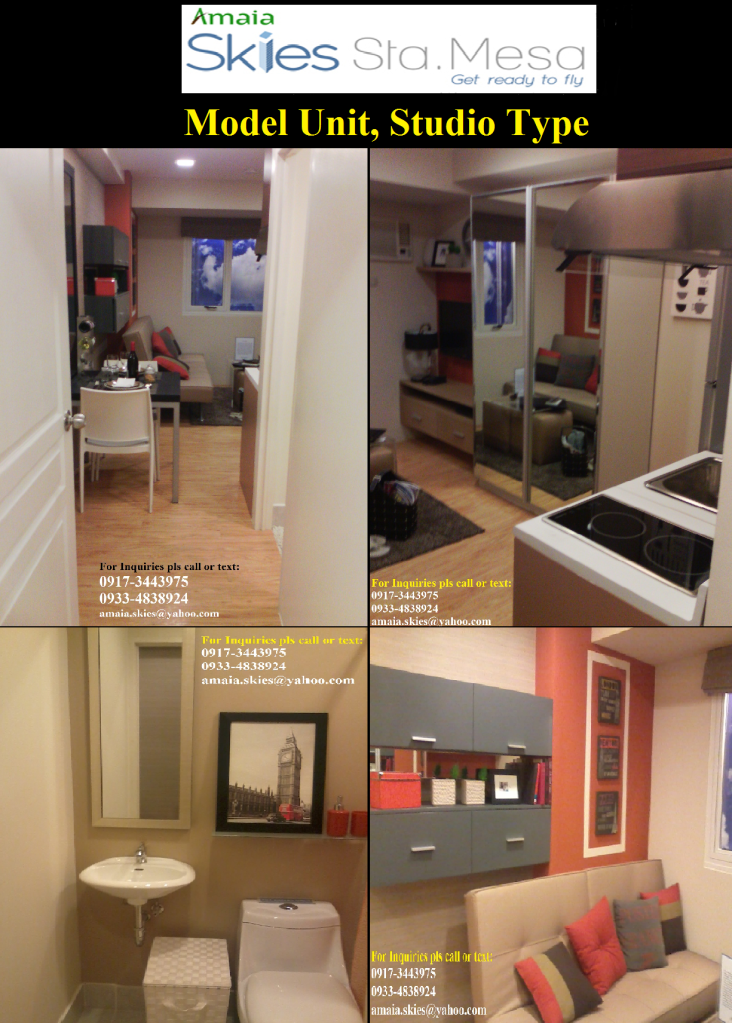 ♦ Sample Computations in Cubao, Sta.Mesa & Avenida♦
Studio Type, 10% outright, 10% payable in 29months
Studio Type, 7% down payment payable in 12months
1BR w/ balcony, 7% down payment payable in 12months
Other Terms of Payment: 15% down payment 24months to pay, 20% down payment 30months to pay.
Requirements: Valid Ids, Birth or Marriage Cert, Proof of billing, House Sketch, Bank App. Form, 4pcs. 1x1 pic., PDC's
- Only 10,000 to reserve a unit!!
-Almost 70% sold (Tower 1, Cubao)
Reasons why we should invest in Philippine property:
- Prices in Metro Manila are inexpensive by comparison to major cities around the globe.
- Rental income from from property is a stable source of income.
- Real Estate in prime locations is always an excellent collateral security against loans and allows financing to be secures anytime.
- Property is a good hedge against inflation which is showing signs of re-emerging in the global economy.
- Property is a kind of hybrid asset with the capital appreciation.
"We understand that your home is your biggest investment. You can count on us, whether you are buying your very first house or selling before you retire."

We will offer terms of payment that will surely fit your lifestyle.

WANT TO VISIT OUR SHOWROOM?

FOR INQUIRIES, SITE VIEWING & RESERVATIONS PLEASE CONTACT:
Mobile Number:
Globe: 0917-3443975 / Sun: 0933-4838924
Email Add:
amaia.skies@yahoo.com / amaia.skiescubao@gmail.com
Tripping Schedule: Moday to Sunday - BEWARE OF UNAUTHORIZED AGENTS!


Read more: http://www.sulit.com.ph/index.php/view+classifieds/id/6006968/Amaia+Skies+Condomium+by+Ayala+Land+as+low+as+7+100+monthly?referralKeywords=amaiaskies&event=Search+Ranking,Position,1-9,9