VERY ACCESSIBLE EXCLUSIVE AND ELEGANT UNIT
TRMUP TOWER MAKATI CITY CONDO FOR SALE DESIGNED BY TRUMP
At Trump TowerTM Manila, units are carefully designed to adhere to the Trump brand's superior design development standards.
PARK AVENUE – Originally known as Fourth Avenue, Park Avenue carried the tracks of the New York and Harlem Railroad in the 1830s. Well-known for its begonia flowers and lush greenery, Park Avenue's overall design philosophy remains classic and timeless.
Trump TowerTM Manila echoes Park Avenue's transitional style using traditional moldings on walls and cornices, contemporary wenge wood flooring, lacquered high gloss finish for doors and door jambs, marble and granite natural stones in cream, white and black. Park Avenue is best suited for those who want the best of both worlds – fusing contemporary and classic in interior finishes.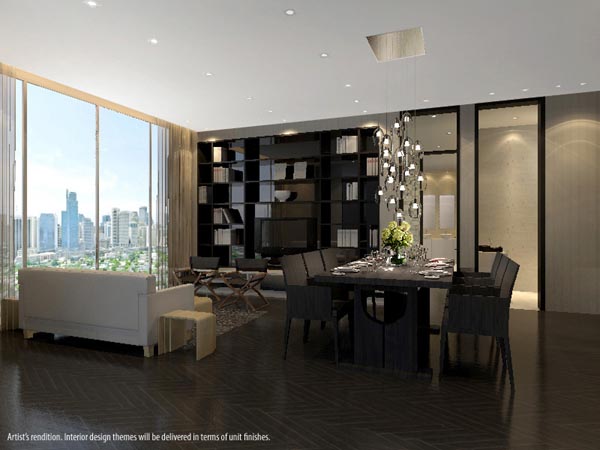 DOWNTOWN SOHO – A stylish neighbourhood in lower Manhattan notable for being home to many art galleries and artists' lofts, and for its trendy boutiques and flagships of national and international brands. Distinguished for its unitque architecture, Downtown Soho blends 18th century elegance in its decorative cast-iron facade "hip" interior design through high contrast hues.
At Trump TowerTM Manila lends Downtown Soho's unique sophistication through ebony wood flooring pristine white walls with linear panelling and white natural stones in smooth matte finish. Downtown Soho is the ideal interior theme for the upwardly mobile citizen with a contemporary taste in design.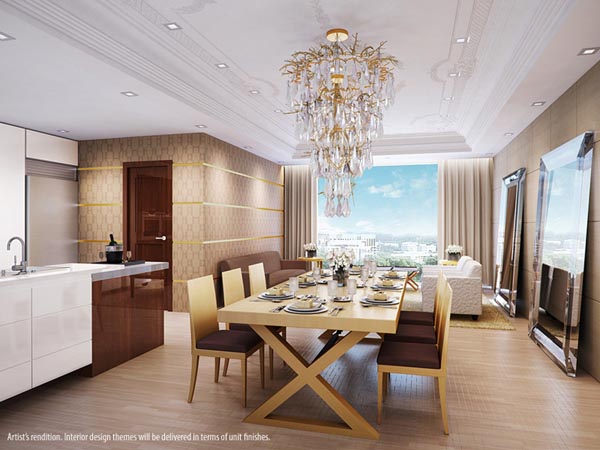 FIFTH AVENUE – Ranked as one of the most expensive avenues in the world. Fifth Avenue remains coveted for its endless variety of upscale retail shops, deluxe apartments and prestigious penthouses. It borders east of the Central Park, making it even more desirable for its lush environment.
Trump TowerTM Manila brings glamorous Fifth Avenue's classic design aesthetic through art deco in light wood veneer floors and walls, marble and granite natural stones in creams and browns. Fifth Avenue is the perfect interior finish for those who want to enhance and showcase their artwork collections like paintings, sculpture and art installations.
AMENITIES
Globally acclaimed sophistication. White gloved service. Exquisite interiors.
From a grand lobby that celebrates your arrival, en route to a marvellous hallway that draws your inner effervescence. Amidst a wide array of lavishly designed amenities. Leading to your exclusive living space with sweeping city views. You have arrived in a truly elegant and privileged new lifestyle.
Trump Tower Manila's emphasis on elegance, quality and craftsmanship will be evident in its amenity spaces. The building will be the first condominium in the world to use a selection of Hermes home collections for its amenities and common areas.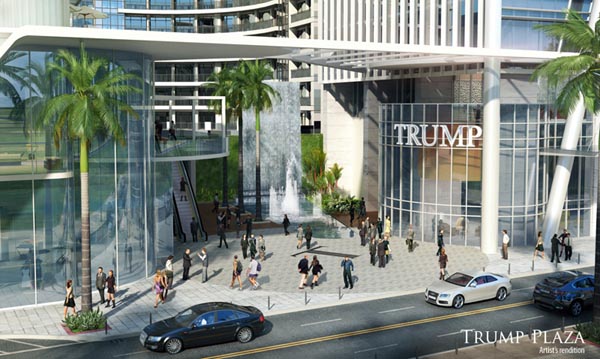 TRUMP PLAZA & WATER FEATURE
A visual delight to welcome your arrival.
Sophistication starts from the moment you glance. The Trump Plaza serves as a dramatic attestation that indeed, you have arrived.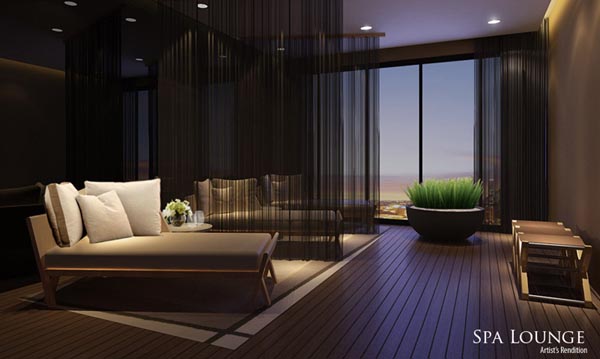 SPA LOUNGE
A prelude to your indulgence.
Relax while you wait for your well-deserved

GRAND LOBBY
An understated elegance.
The grand lobby greets you with a lofty triple height ceiling adorned with an iconic chandelier, pendant lamps and elegant furniture.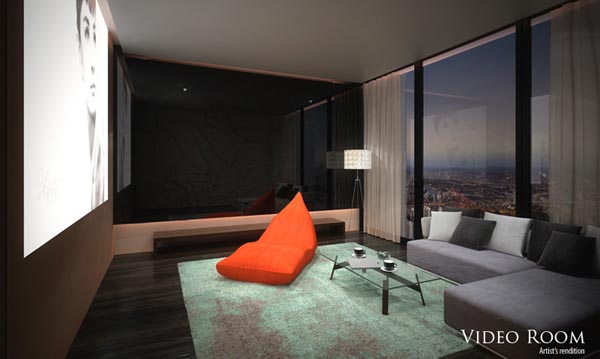 VIDEO ROOM
A time to dream
Transport yourself to a new world while you indulge in cinema or get excited in sports entertainment with your friends in the video room.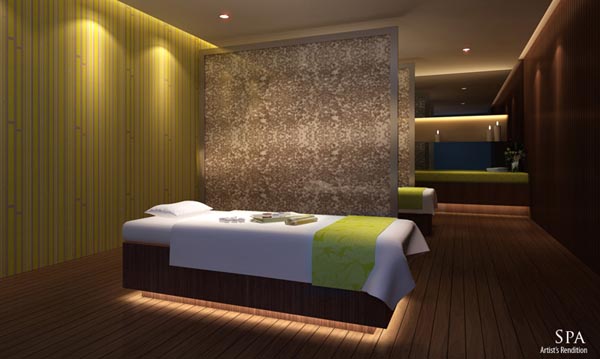 SPA
Sanus per Aquam (SPA) means health by water. Treat yourself to a relaxing dip in the Jacuzzi,
a few minutes in the stream bath and an aromatherapy massage in your exclusive spa.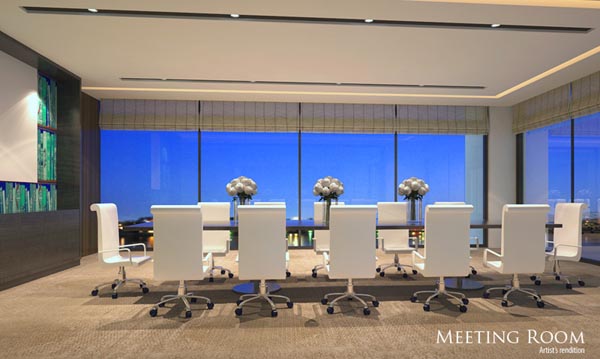 MEETING ROOM
Conduct your business conference in style in its tastefully chic interiors that blends ultramodern and classic sophistication.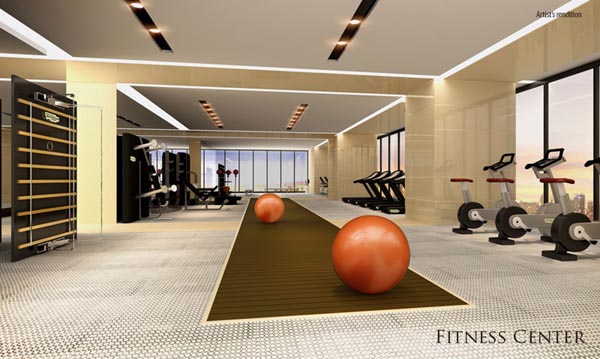 FITNESS CENTER
A habit that keeps you going.
Stay fit and fabulous in your fully-equipped and stylishly designed fitness center.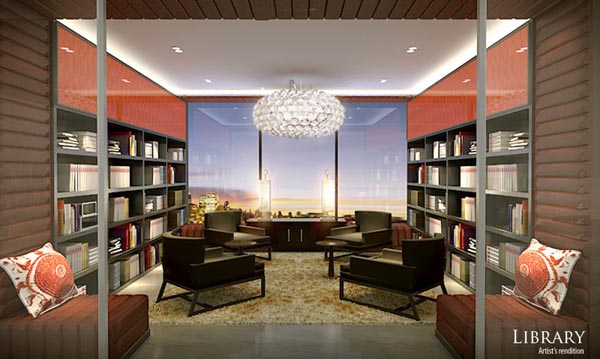 LIBRARY
A chic alcove of erudition
Go through the archives of our special collection on finance, business art and travel in your library's
elegant interiors accentuated with intricately-designed wallpaper and furniture.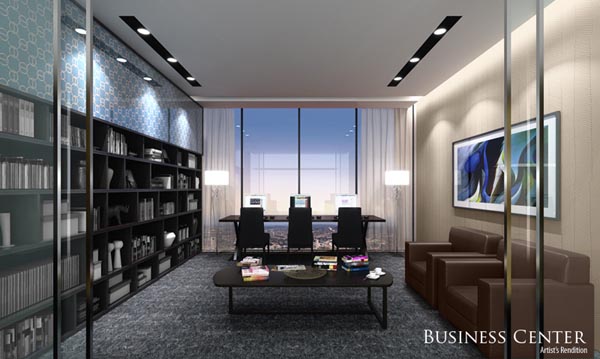 BUSINESS CENTER
A pleasure to do business.
Organize your work and mentally prepare for a busy day ahead in the business center embellished with art
deco wallpaper and furniture, dark stained walnut book shelf and chevron slate carpet.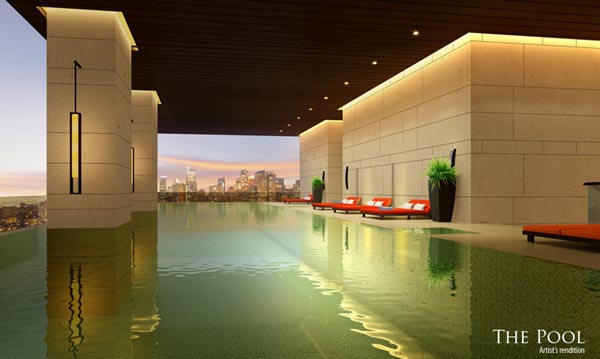 THE POOL
A plunge to a life well-lived. Take pleasure in a daily 5-lap routine workout or simply soak up the sun on a weekend in your very own pool overlooking the Makati skyline.
Intricately designed with glass mosaic tiles honed finish marble and bright lounge beds.
SAMPLE PRICE
DISCOUNT/PROMO P620,128.25
TOTAL PRICE P 18,200,341.75 ( UNIT/PARKING/STORAGE)

RESERVATION FEE P 150,000.00
6MONTHS DOWN P 581,678.06
+ 34 MONTHS DOWN P 321,182.50

BALANCE 1MONTH P 3,640,068.35

CALL or Text me NOW!!
PRC Licensed Real Estate 0003450

RICO NAVARRO
DRIVEN
Marketing Group Inc.
From
DRIVEN Marketing Group Inc.
Contact Details:
Globe: +63.9164350970
Sun: +63.9235564517
Email: riconav6@gmail.com
YM: fv_baby@yahoo.com
________________________________________________________________ I also offer condominium in qc, condominium in quezon city,condo,condominium, quezon city condos,affordable,cheapest,accessible,near sm trinoma,near office,philippine condos,manila,loan,pagibig,bank,amortization,lowest rate,movein ready,downpayment,balance,price,reservation,percent,ofws,loft type condominiums in makati, dormitories in quezon city,

makati condominium,condominiums in makati,makati condominium,makati condos,makati condominiums,condominium makati,condo makati,condo in makati,manila condo,makati condo, a condo in manila,condo manila,

house manila,manila house, house in manila,house for sale, house on sale,houses on sale,affordable house

house for sale in the philippines,houses in the philippines,lots for sale,house and lot for sale in the philippines,new house for sale,house philippines,philippines houses,house and lot in philippines,house and lot, house sale philippines,property

house quezon city,house rizal, house antipolo,house pasig,house taguig,house katipunnan,house mandaluyong,house pioneer,house manila,house taft,house ust,house espana,house recto, house the fort,house bulacan,house caloocan,house valenzuela,house laguna,house batangas,house makati,house moa,megamall,galleria,embassy,makati avenue,chino roces,kalenton,shawblvd

condo in valenzuela,condo in quezon city,condo edsa,condo mrt,condo pasig,condo ortigas,condo mandaluyong,condo pioneer,condo shaw,condo makati,condo the fort,condo global city, condo mckinley,condo manila,condo pasay,condo moa,condo taguig,condo cainta,condo paranaque,condo for sale,sale condo,condo airport,condo naia,condo katipunan,condo philcoa,condo technohub,condo ateneo,condo ust,condo espana,condo lasalle,condo tagaytay



HOUSE AND LOT, TOWNHOUSE, SINGLE DETACHED, SINGLE ATTACHED, DUPLEX, MODEL UNITS, CONDOMINIUMS, LOT ONLY, HOUSE, RENT TO OWN, FOR SALE, PRE-SELLING, READY FOR OCCUPANCY (RFO), NEAR UNIVERSITY, NEAR SCHOOL, AIRPORT, STRATEGIC LOCATIONS, CONTRACTOR, DEVELOPER, BUILDER, DESIGN, INTERIOR, LANDSCAPE

_________________________________________________________________________