DIANA AFFORDABLE TOWNHOUSE NEAR AIRPORT AND MAKATI FOR AS LOW AS 10.5K A MONTH.
DIANA TOWNHOUSE @ Lancaster New City - Floor area: 60 sqm, Lot area: 50 sqm, 3 Bedrooms, 2 Bathrooms, 1 Car garage, where you and your family can play, relax and enjoy outdoors. Only 20 to 30 minutes away to Airport, Baclaran and Mall of Asia via Cavitex. Within the location are the following amenities - school, church, bus terminal, commercial area, Suntech iPark, country club, swimming pool, basketball court, parks and playground and all of the villages has its own gate and secured 24/7.



DIANA TOWNHOUSE MODEL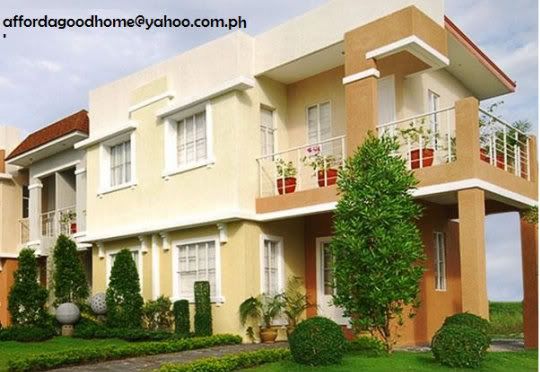 DIANA FLOOR PLAN WITH FULL DETAILS

DIANA HOUSE MODEL INFORMATION
HOUSE DETAILS
- House Type : Townhouse
- Floor Area: 60 sq. m.
- Lot Area: 50 sq. m.
- Three (3) Bedrooms with Partition
- Two (2) Toilet and Baths
- Living Area
- Dining Area
- Kitchen
- Service area and Balcony

HOUSE FINISHES
- Pre-painted G.I. sheet roofing
- Steel casement window
- Pre-cast wall panels
- Painted sand blast finish for exterior walls
- Painted plain cement finish for interior walls
- Tiled kitchen counter with stainless kitchen sink
- Tiled Toilet & Bath with complete set of bathroom fixtures (includes: tissue and soap holder)
- Provision for CATV, telephone, A/C outlet
- Plain cement finish flooring for ground and second floor


DIANA DRESSED-UP UNIT GROUND FLOOR
SECOND FLOOR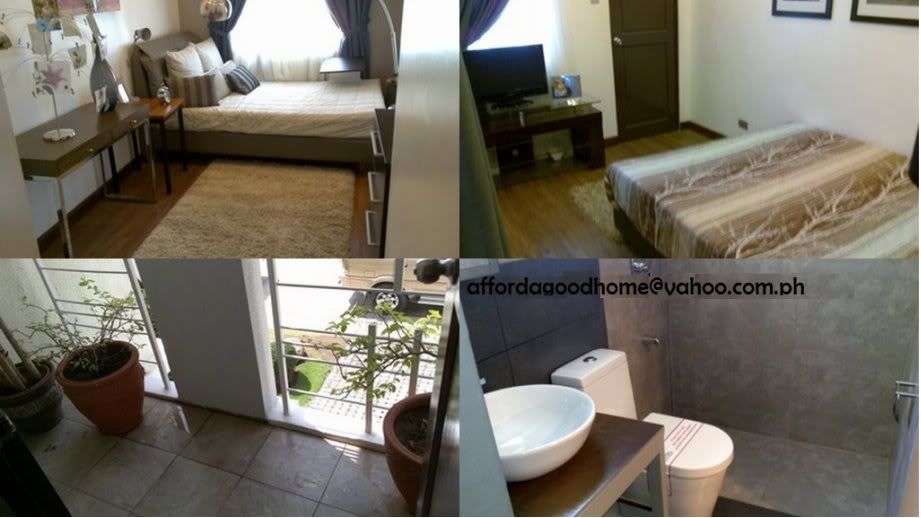 DIANA TURN-OVER UNIT GROUND FLOOR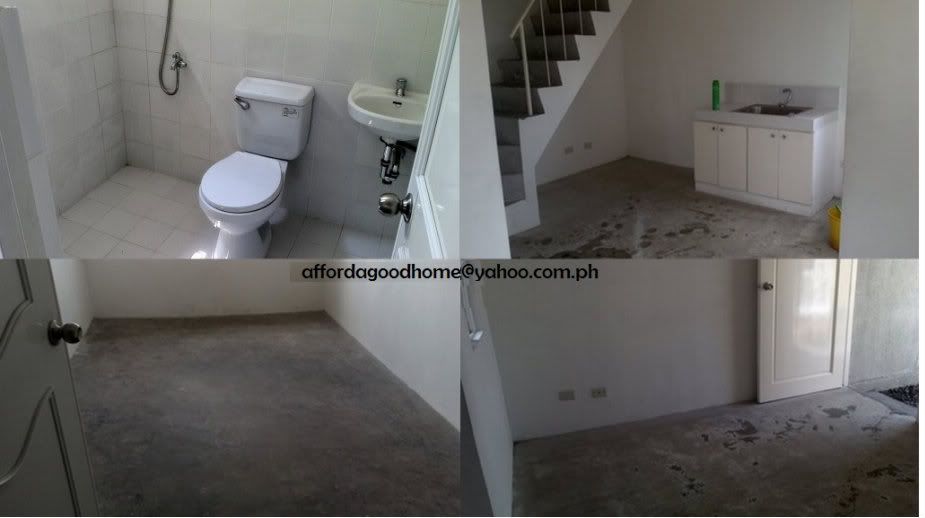 SECOND FLOOR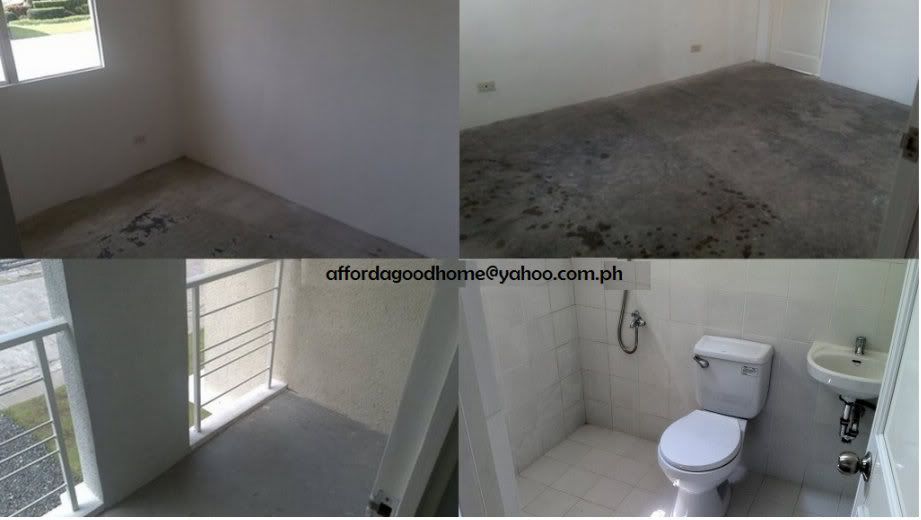 THE NEW LANCASTER ESTATES
Is an English Countryside-inspired development that allows you to slow down, grow, and bond with your family. From the balconied Alexandra, to the relaxing ambiance of Gabrielle, the New Lancaster Estates are a place to savor the good things in life. For just a 30-45minutes travel time to and from Manila & Makati via Coastal Road extension (CAVITEX), you'll experience English-inspired country style living that is far from the noise & pollution of the city. This relaxed elegance will be experienced by all residents within this 1,000-hectar master planned community of Lancaster Estates.
LINEAR PARK IN EVERY BACKYARD
Lancaster Estates features a linear park at every backyard. It is specifically designed to make family and neighborly ties stronger and for residents to enjoy the traditional comforts of home – vast spaces, good ventilation, abundant natural light and safe playground.
Lancaster Estates is the first and only community in Imus, Cavite area with a linear park within each block giving your children a safe & secure place to play.
This linear park concept brings back those days when children could romp around freely at a safe distance, without the parents worrying where they are.
Amenities and Facilities
• Entrance Gate
• Country Club
*Suntech iPark- First IT Park in Cavite
• Swimming Pool
• Basketball court
• Chapel
• Landscaped parks and playgrounds
• Landscaped open spaces
• Centralized Water system
• Concrete roads
• Private School
• Wet Market
• Gasoline Station
• Bus Terminal
• Commercial Areas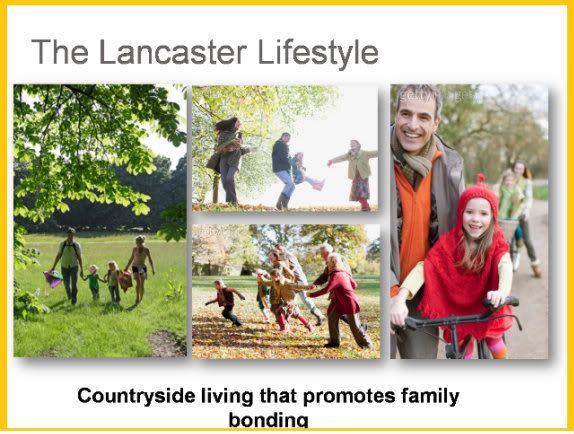 Amenities and Facilities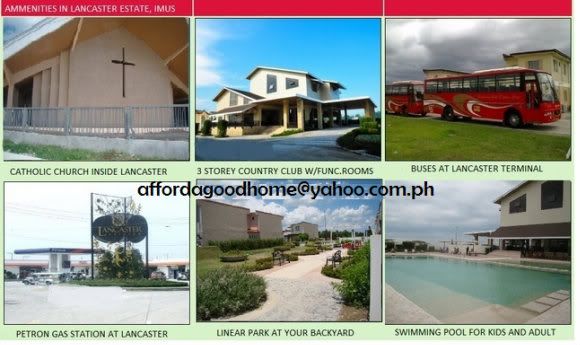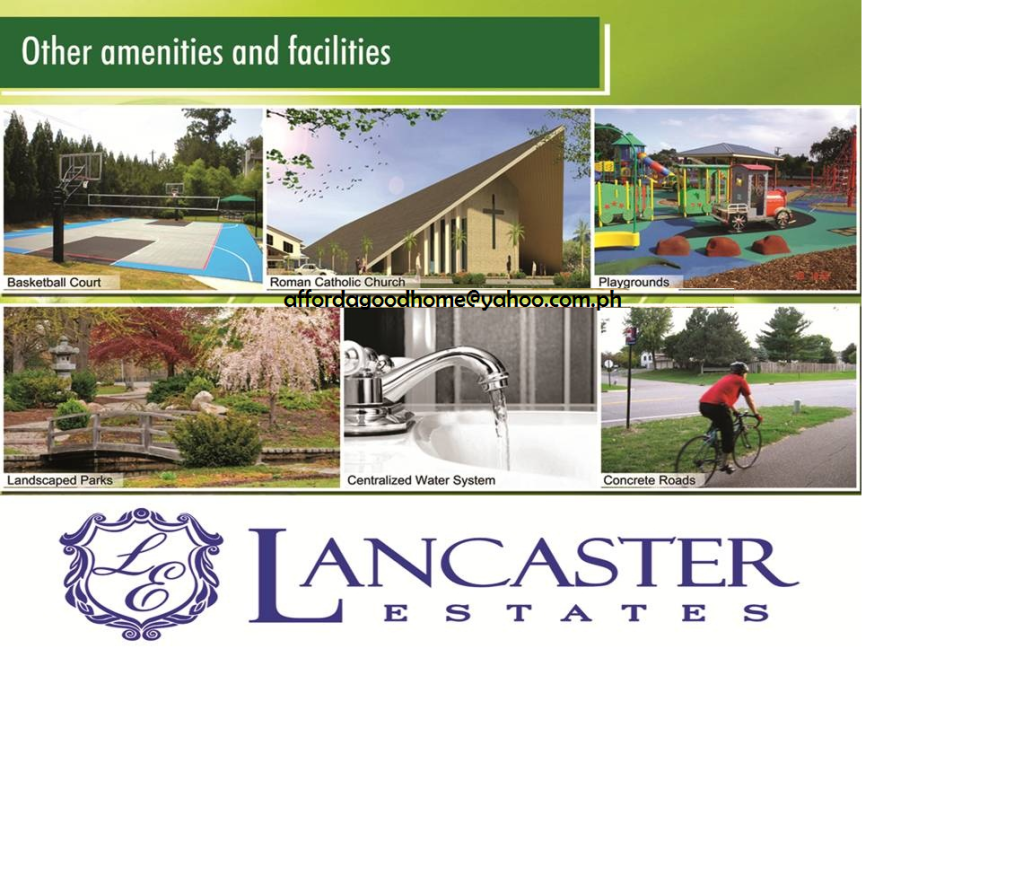 LINEAR PARK FOR SINGLE ATTACHED UNIT ONLY

BUS TERMINAL

BUS SCHEDULE
LOCATION MAP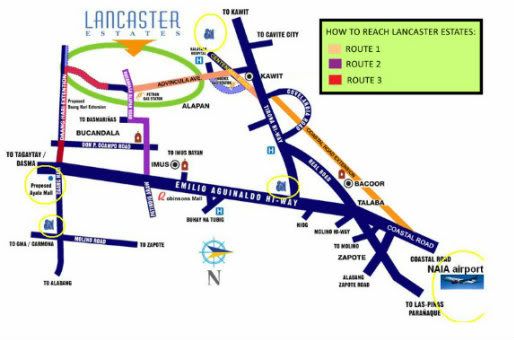 ACCESIBILITY
=10-15mins away from SM Bacoor
=30 to 45mins away from Manila and Makati
=10-15mins away from Puregold and Robinsons Imus
=15-20mins away from Baclaran, Airport via
cavitex
=15 mins away from SM Mall of Asia
WHY INVEST?
1) Very accessible to Manila and Makati thru CAVITEX. Also, subdivision is accessible to Alabang thru Daang Hari Road.
2) With Shuttle service for residents and 24hrs Bus Going to Manila/Makati (P25-P35 fare) available
3) With Petron Gas Station, Convenient Stores and Water Station inside the subdivision
4) Soon BDO, MAYBANK, HSBC, METROBANK WILL BE BUILT INSIDE THE SUBDIVISON
5) With existing Kalayaan Hospital and Municipal Hall outside the subdivision
6) Also have existing Police Post near the entrance gate
7) Now with Saint Edward Integrated School for primary and High School student inside the subdivision plus soon will rise Saint Joseph academy, DELA SALLE and St. PAUL school outside but very near the subdivision.
Why Choose Cavite?
1. Top 8th High Performing Provinces
In terms of local governance, Cavite was recognized among the 10 provinces which acquired high scores in the department's Local Governance Performance Management System (LGPMS).
2. Premiere Tourist Destination
Cavite boasts some of its most superb mountains, cave and falls found in the upland areas such as: Tagaytay Ridge, Cabag Cave in Maragondon, Balite Falls in Amadeo, Malibiclibic Falls in General Aguinaldo-Magallanes border and Mts. Palay-Palay and Mataas na Gulod National Park in Ternate and Maragondon.
3. Strategic Location
Cavite has six major entry and exit points; so going in and out is easy.
Cavite has a good road network; moving from one town to another place within the province is only a short distance drive.
4. Good Climate
Cavite has two pronounced seasons: relatively dry from November to April, and wet from May to October.
Warmest months are March, April, May, June and July with an average temperature of 28.8oCelsius.
Coolest months are January, February and December with an average temperature of 25.8oCelsius.
5. Generally Ideal Peace and Order Situation
Sustained thru the Cavite-Philippine National Police program on increased police visibility particularly along chokepoints during day time and sustained night watch operations.
6. Cavite Has Approved Development Plans
Land in the province is delineated and allocated based on approved Provincial Physical Framework Plan (PPFP) and Provincial Development Plans (PDP) - 2005-2010
There is no dam near Lancaster Estates.
7. Service Providers Are In Place
Power Supply - from the National Power Corporation thru MERALCO
Water Supply - From Ground Water Resources developed by respective IEs, water services from MAYNILAD and Local Water Districts
Telephone Services (Land-based & Mobile) - From Philippine Long Distance Company (PLDT), Digital Telecommunications Philippines, Inc. (DIGITEL), Globe Telecommunications Company & Smart Telecommunications
Telecommunication Services - From Radio Communication of the Phils, Inc. (RCPI), Philippine Telegraph & Telephone Company (PT&T), LBC & DHL
8. Major Infrastructure Projects - Are being pushed for implementation and completion to complement rapid urbanization.
BANK FINANCING REQUIREMENTS
3 pcs. ID picture 1x1
2 Valid ID's
Latest Cedula
Proof of Billing Address
TIN ID (For local employed only)
ADD THESE FOR OFW:
Passport
Special Power of Attorney (Consularized)
Certificate of employment (Email Address of Employer Must Be Indicated)
Why there are different prices in the Internet?
1. Prices are higher for lots facing east or morning sun, than lots facing west.
2. Prices are higher for lots located near Entrance Gate, Amenities and Main Roads.
The farther the lot from the entrance gate, the cheaper is the price.
3. A Corner Lot and End Lot is higher than inner lot due to bigger lot area.
4. Prices may have increased by the time you viewed the posted ads, so it is
highly recommended to ask for an updated pricelist.
5. Profriends, Inc. has only ONE PRICELIST for all AGENTS and BROKERS.
6. So, be careful and be safe. Choose your Agents well.
We thank you for viewing this advertisement
God bless you and your family.
For tripping and site viewing, please call or text:
Christopher Caranto
Sales Manager
Green Circle Realty Sales In.c
Sun and Globe : 0923-868-63-04 / 0927-651-5969
E-mail: affordagoodhome@yahoo.com.ph / cccaranto@yahoo.com
"Commit your works to the LORD, and your plans will succeed." (Proverbs 16:3)