COMMONWEALTH BY CENTURY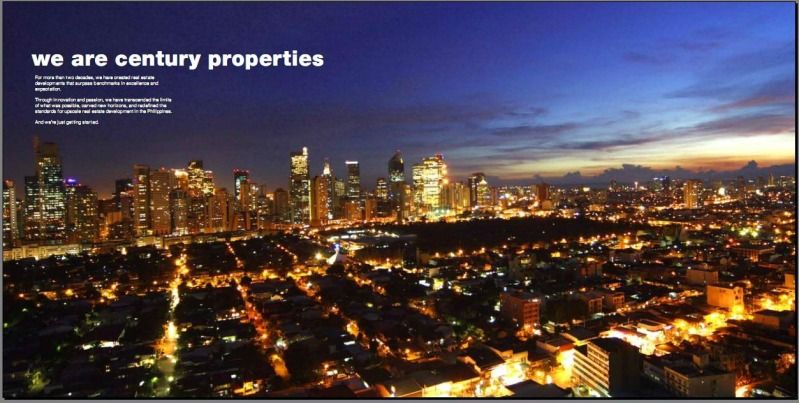 Century Properties Group, Inc. is coming soon to the Commonwealth Area. It is investing around 4.8billion in this condominium project in Quezon City.
This project in Commonwealth area will be located at a four-hectare property at the back of Ever Gotesco Mall in Commonwealth, Quezon City.
Introducing the uncommon in Quezon City!
For the first time ever Century Properties brings its 26 year heritage of innovation, excellence and breathtaking developments to the Quezon City area.
Uncommon Beauty
From Broadway Malyan, the same urban planners that created Azure Urban Resort Residences, and Acqua Private Residences, Commonwealth by Century will take its place as one of the most beautiful residential masterplans ever created for Quezon City.
This awe-inspiring new address will form the area's first true vertical village, combining cutting-edge architecture and state of the art engineering, with landscaping and waterscaping never before seen in projects within this category.
Towers
All the towers at Commonwealth by Century will encircle a truly majestic central amenity that serves as the centerpiece of the entire masterplan.
This fully landscaped and waterscaped nature park is divided into three sections with water and its escalating energies as its theme.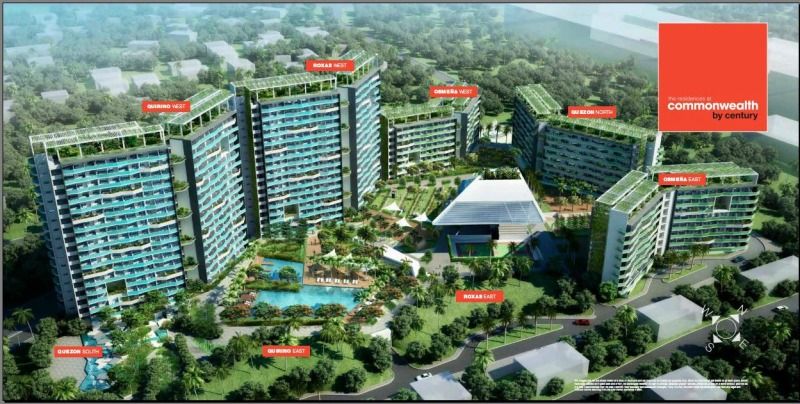 Uncommon Convenience
Located right in the heart of the bustling Commonwealth, QC, Commonwealth by Century will become a true benchmark for residential living in the area. Immediately accessible to top schools, shopping centers, churches, and major thoroughfares, it is a location that has long been deserving of quality real estate development.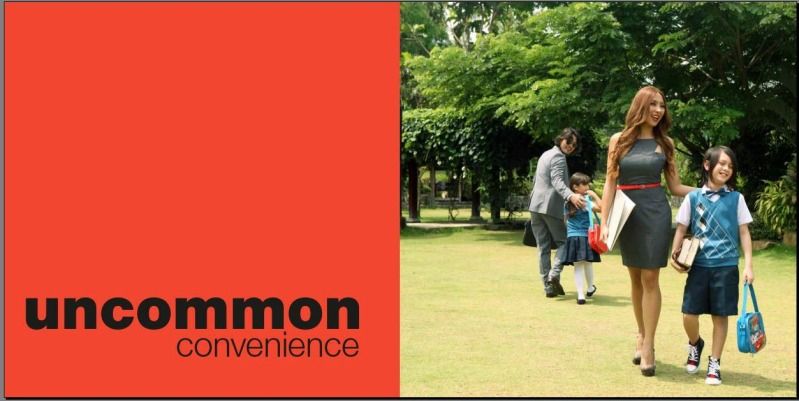 Uncommon Spaces
Commonwealth by Century also introduces extended Balconies for every unit. Each balcony dovetails into a unique chevron layout that creates a pocket of private space. This outdoor space makes your home truly special as it is expansive enough to serve as an extended living room for guests, or a personal garden for residents. This unique unit layout truly maximizes the indoor/ outdoor living experience.
Eight iconic multi-level towers will rise on the site, reflecting a distinct "cranked" design that optimizes sunlight and circulates the cool breeze...
Each tower will be built to pay tribute to the incline of the existing terrain, following a sloping pattern of ascending height. The tallest towers will top off at 12,500 floors, the lowest towers at 500 – each tower will have a distinctive undulating facade inspired by the natural lines of the topography creating unique and generous balcony spaces afforded across all unit frontages.
Private "Floating Gardens" are integrated into choice balconies that staggers up the building facade to form a series of stepping gardens. A further network of public "green" spaces within the building are introduced in the form of Box Gardens, Vertical Gardens and Roof Gardens that are shared mutually to allow for different social groups to meet, play and relax.
Uncommon Amenities
Commonwealth by Century will feature accommodations for a wide variety of pursuits. With a majority of amenities built into the truly majestic and architecturally awe-inspiring clubhouse.
A three-storey complex designed to mirror the progression of the individual from the formative years to adulthood. A multitude of other delighful amenities are also planted along the development's central area flanked by the 8 towers, perfecting the entire Commonwealth experience.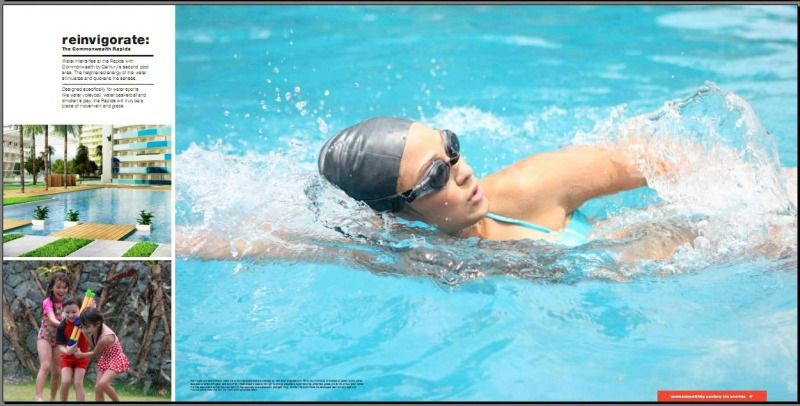 Commonwealth by Century Walkthrough Video
Prices in general for the affordable Studio units in mid-rise buildings to be developed by Century Properties would be as follows;
If you buy a Suite units, monthly amortization is about P. 8,904.89 more or less so it's very affordable

•UNIT SIZES (Total Area) UNIT PRICES
Suite : 20.700 sq.m. Php 1,638,300.00 @ 8,147.36 a Month
1 Bedroom : 39.600 sq.m. Php 3,049,560.00 @ 15,532.64 a Month
2 Bedroom : 63.900 sq.m. Php 4,823,196.00 @ 24,722.14 a Month
Century Properties Group, Inc. the developers of the first condominium community with innovative man made beach AZURE URBAN RESORT, The Country's first residentail Eden ACQUA Private Residences The Acqua Livingstone interior designed and inspired by MISSONIHOME, MILANO interior desgned by VERSACEHOME, and the TRUMP TOWER. Are just among few to mention.
Bring its world class quality and innovation to Commonwealth, Quezon City. With a very affordable and good investment monthly of only Php. 8,000.00
Pick your preferred location now while a lot of great view units are still available. Reservation is only 15,000 pesos.
For inquiries, please feel free to e-mail me at this add at edcb3@yahoo.com or edwinbillones@gmail.com You can also contact me at the numbers below for direct and prompt response. Thank you very much!
For updated prices, terms and availability of units, you can browse our Online website at real-time together giving you an opportunity to see the units' updates and the prices and payment or investment option of your choice.
The Floor Lay-Out
The Option ( Investment )
The Monthly Investment
For inquiries please leave a message here, or simply text the contact details below.
+639196188558
Advertisement: