PHILOSOPHY

Century City is a product of Century Properties' in-depth consultation with history's greatest architect: Mother Nature. Underlying blueprint of ecosystems that exist in nature, the city becomes a living, breathing organism, that features:
Residential projects sprouting like redwoods reaching for the sky;
Canyons that connect and intersect with an underground and above ground system for parking;
A sprawling lifestyle center that spans the entire land area planted with delightful elements of retail, dining, entertainment
State-of-the-art corporate complexes, serving as a source of nourishment for the entire community.
WELCOME TO CENTURY CITY

Century City will be an entirely new urban experience set to redefine the Makati skyline.
Inspired by history's greatest architect, Mother Nature, it will be an organic futurecity that fuses nature and Urbanity.
Featuring exclusive Hyper-Amenitized Residences, state-of-the-art corporate complexes, a private recreational club, and a sprawling shopping, dining, and entertainment lifestyle center unlike anything ever built.
In the Philippines' central business district, spanning an avenue we call "Kalayaan," which is the Filipino word for "Freedom", it will be an experience that liberates us from everything we have ever known in defining a city.
With a true 24/365 global dynamic, it will be the embodiment of our country's highest aspirations, the pride of the Philippines, and soon to become one of Asia's most exciting destinations.
LOCATION MAP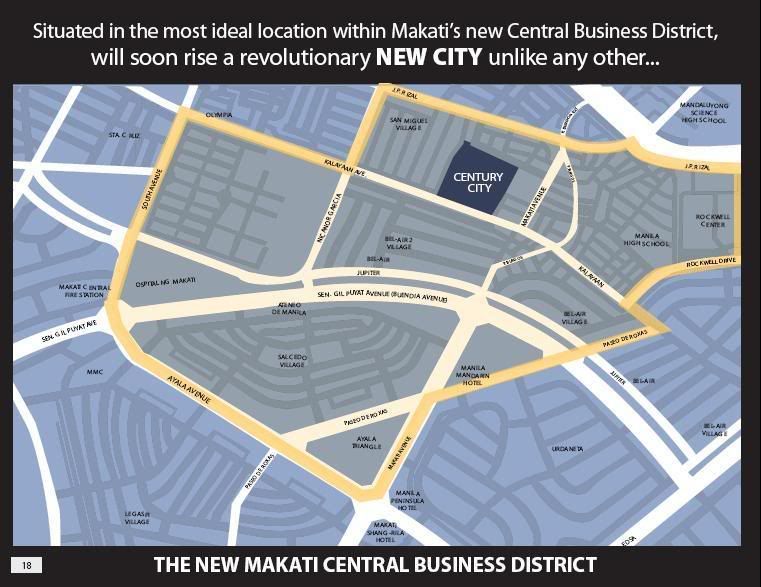 Makati radiates the financial pulse of the nation; it is the birthplace of dreams, the cradle of opportunity. It is both the origin and destination of desires, where you will find the most desired and most expensive real estate in the entire country.
As with any megalopolis, this city continues to grow, expand and revitalize itself, and part of its perpetual flux is the expansion of the Central Business District, encompassing the areas north of the old financial center.
Century City will rise right in the heart of this new district, a shining symbol of our nation's highest aspirations; an icon of the new Philippines--modern, progressive and truly world-class.
In the next few years, massive infrastructure development, road widening, public works beautification, and construction will be undertaken to ensure ease of access to the development as well as create a unique and distinct ambience as you approach and depart from this exciting new place.
INSPIRATION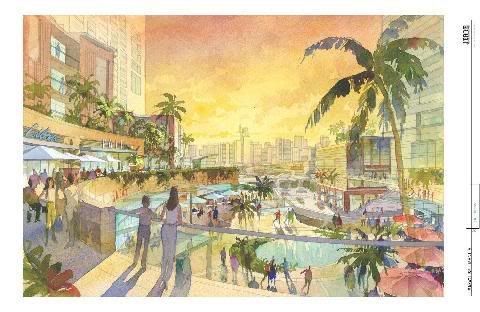 Inspired by the spirit of the great city of New York, The Gramercy Residences will be the first tower to rise at Century City.
This ultra-exclusive hyper-amenitized condo project takes its name from Manhattan's ultra-exclusive Gramercy Park, a fenced-in private park in New York City's most prestigious of neighborhoods, accessible only to the well-heeled residents of the buildings in the area who are assigned keys to the park. A sanctuary in the middle of the city's relentless pace, it echoes the New York of a quieter, gentler time. Here, at the turn of a key, is peace and quiet, a place to muse and reflect, read a newspaper or merely catch some sun. It is here thatCyrus Field conceived the Trans-Atlantic Cable, Mark Twainplayed pool, and an eight-year old John F. Kennedy chased the squirrels on a lazy afternoon.
It is the exclusivity, the history, and the central characteristics of Gramercy Park in New York, that has inspired in no small measure, the first urban icon set to rise in progressive Century City: The Gramercy Residences will feature interiors and aesthetics that evoke the Big Apple's unmistakable flair, and the exclusivity and style of its Manhattanite namesake.
THE RESIDENCES
With Century City's citizens, a new paradigm in residential high-rise development will be set, with all residential units not only providing Century Properties' highly-acclaimed, Fully-fitted, Fully-furnished concept, but taking bespoke living to the next level with more interior design options to allow you to truly personalize your future home.
As the first residences to be built within a future urban icon and international landmark, Century City's Gramercy boasts of delightful amenities never before seen in the industry.
Among them is the piece de resistance: The breathtaking SKYPARK with waterfalls, infinity pools, a designer restaurant, health club and more, 36 storeys above the ground and traversing the entire width of the building.
SKYPARK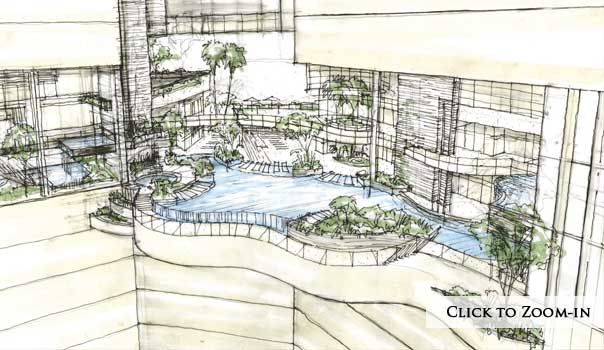 Gramercy's piece de resistance is the breathtaking SKYPARK, a sprawling nature park on the 36th floor, halfway up the building and traversing its entire width, and jutting out like an oasis in the sky.
Imagine sipping a refreshing piñacolada while tanning beside a magestic lagoon pool that overlooks the makati skyline. The SKYPARK is an architectural innovation, designed by Jon Jerde and never before attempted anywhere else in the world. This unique amenity floor spans the soaring height of three storeys, accentuated by multi-level waterfalls, cantilevering walkways, lush gardens and greenery, an infinity pool, a glass-sided lap pool, a lagoon pool, 3 world-class gyms, a children's playground, meditation gardens, a cafe and designer restaurant, and more!
HYPER - AMENITIES
Located within Gramercy's SkyPark
The Gramercy Residences will be the only 24/365 hyper-amenitized luxury high-rise in the Philippines boasting of features and luxuries never before attempted anywhere else in the world.
Three World-class Swimming Pools
Featuring a freeform infinity pool, a 25-meter lap-pool with multiple lanes, and a children's pool –all with breathtaking Makati skyline views.
25-meter Lap-pool with multiple lanes
Kiddie Pool
Other Auxiliary/wading Pools
Cascading Waterfalls
The sound of rainfall like rhythm fills the air with a sense of serenity while the waterfall doubles as a distinct visual interest.
Three Distinct Gyms
The Gramercy will have three gyms open 24 hours a day — a general-purpose gym, a purely weights gym, and a third gym with purely aerobic machines.
Cafe and Restaurant
Enjoy the fantastic city view 36 levels above the ground as you take a sip of your morning brew or indulge in a hearty lunch
Yoga/Pilates Room
Tucked away behind a lush landscape, this facility provides a tranquil workout area for wellness seekers.
Spa and Massage Center
From facials and massages to a relaxing steam bath, the spa at Gramercy provides an escape for those who want to recharge and rejuvenate.
FULLY-SERVICED
The Gramercy will be fully-serviced, a dream come true for those who live the modern lifestyle. Imagine ordering a sumptuous meal served in your bedroom from any of Century City�s restaurants. Or having a personal shopper bring up some new arrivals from your favorite boutiques downstairs, a housekeeper taking care of your household chores, or the Gramercy day care center and playschool ensuring that your kids have countless hours of educational fun.
5-Star Services at the Gramercy
24-hour doormen
Delivery service from all Century City restaurants
Massage and spa services
Personal shopping and delivery services, including groceries, cleaners, pharmacies
Messenger services for local pick-ups and deliveries
Newspaper delivery
Pet-walking services
Pick-up and delivery services for laundry and dry cleaning
Technical support services for computers, entertainment centers and telecommunication equipment
Extra storage space for sale for boxes, old clothes, sports equipment and the like.
Your food can be delivered to your unit even late at night from any of Century City�s top restaurants
Enjoy a relaxing massage anytime you want�even at 2 a.m. after a tiring workday
With technicians on stand by 24 hours to fix your PC, Internet connection or any other broken electrical fixtures.
Hang out with friends in any of Century City�s bars and restos, open until the wee hours of the morning
FULLY FITTED
In order to make your move a hassle-free experience, all units at The Gramercy come fully-fittedand stylishly furnished. No longer will you have to worry about buying a kitchen and dining room showcase, or set up a home entertainment center. No longer will you have to ensure that every room is furnished, has a television, or airconditioning. Our team of exceptional interior designers will be taking care of everything for you for free! Imagine moving in to your brand new unit with everything you need already inside. NO HASSLES of expensive interior designers, messy contractors and dusty construction.
At Gramercy, luxury iving starts the day the unit is turned over to you. What's more, Century Properties takes bespoke living to the next level with more interior design options to allow you to truly personalize your future home.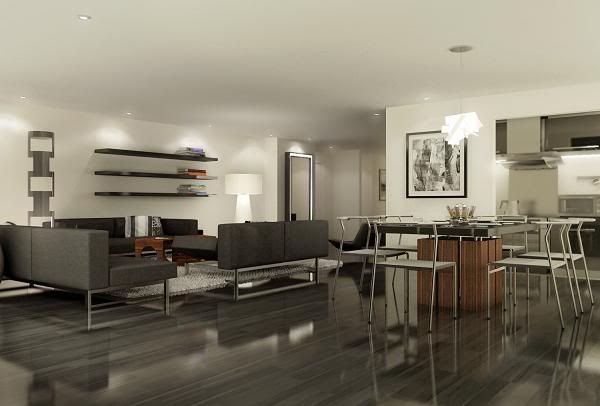 6 DESIGN OPTIONS
Century Properties pioneered the Fully Fitted Fully Furnished concept, with its twin tower residential project at the Fort called South of Market. At the Gramercy, residents get a choice of not just 1, 2, or 3 fabulous interior design options but 6. It�s luxury condo living to the next level!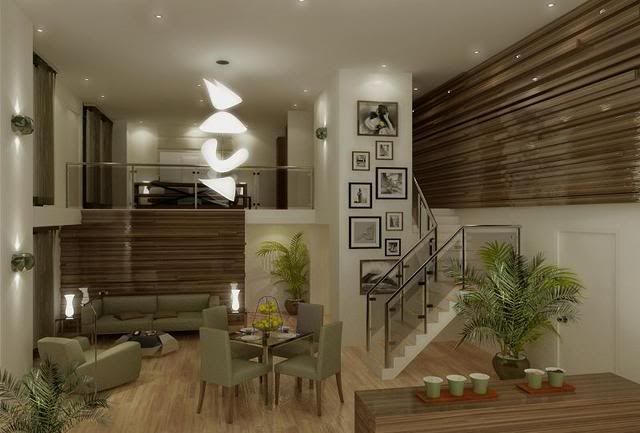 LUSH
Enjoy the comforts of living in an inviting contemporary style.

AZULI
An interplay of arresting blue, pristine white and butter yellow adorn this lively pad, topped off with complementary oriental accent pieces.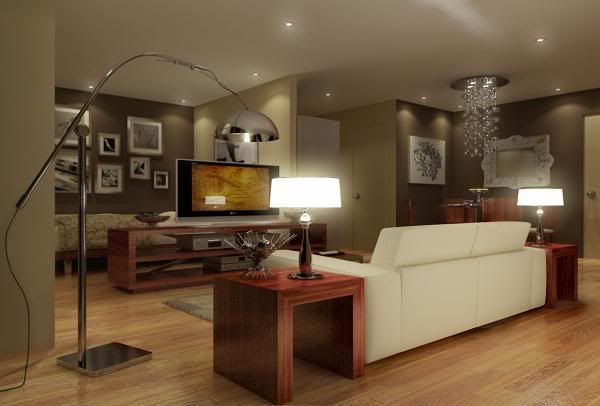 SLEEK
Neutral shades combined with dazzling silver, reflective light fixtures and funky artwork make this pad truly stylish and unique.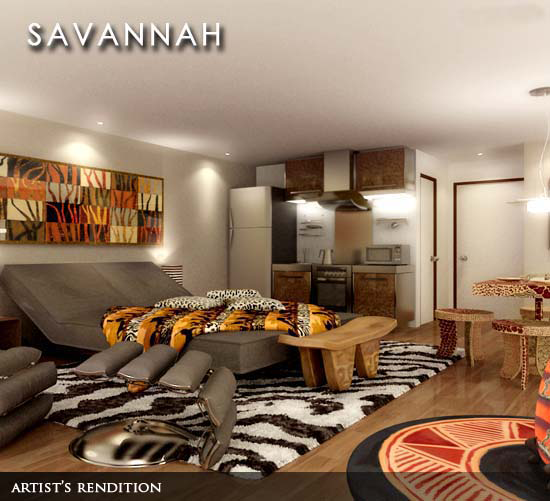 Subdued contemporary design merges with bold animal prints and rich dark leather to create the perfect pad for the adventurous frequent traveler.

ARISTO
This elegant living space combines modern design with contrasting neutrals and tones, and touches of old world furniture.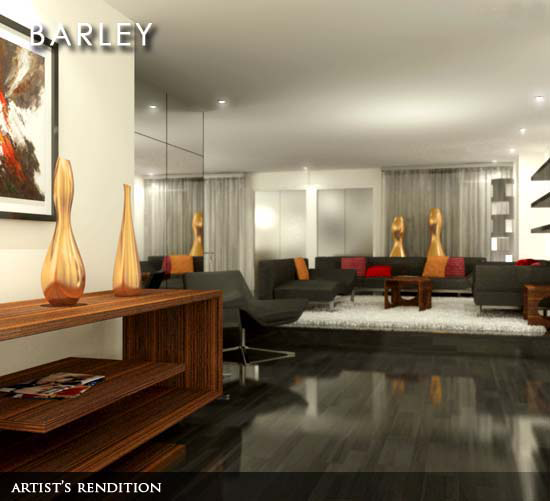 BARLEY
Black and gold merge to create a strong sense of character in this design, given a further edge by retro-classic furniture, carved mirrors and high-gloss finishes.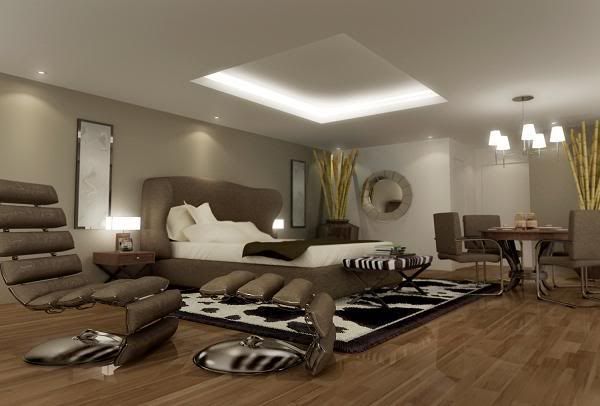 FLOOR PLANS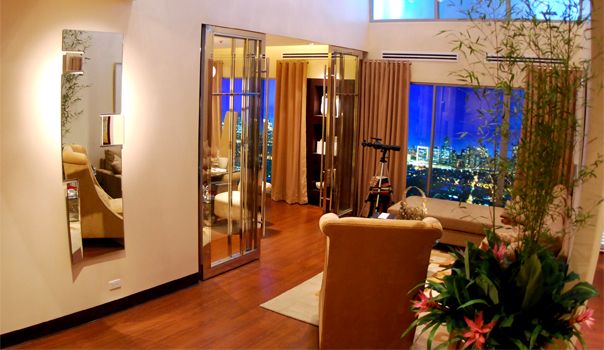 All residential floors at the Gramercy ensure breathtaking views of different parts of the city, as all units open up to large balconies with picturesque angles of the Makati skyline, Fort Bonifacio, Ortigas and even Manila Bay.
VIEWS
Inspired by the spirit of the great city of New York, The Gramercy Residences will be the first tower to rise at Century City.
JERDE PARTNERSHIP

The Jerde Partnership International is the architectural and urban planning firm behind numerous global landmarks, including the Bellagio Hotel in Las Vegas, the Roppongi Hills in Tokyo, the soon-to-rise City of Dreams in Macau, and the Zlote Tarasy in Poland, winner of the best masterplanned development in the world.
Based in Venice, California, the Jerde Partnership is headed by its founder and president Jon Adams Jerde who pioneered "experience architecture" or the philosophy of "placemaking."
This design philosophy centers on creating unique places that deliver memorable experiences and attract millions of people everyday; and provide lasting social, cultural and economic value and promote further investment and revitalization.
PAYMENT METHOD
For Century City, we only accept payments through the issuance of Post Dated Checks (PDCs) for the monthly amortizations and turnover balance.
All local and international buyers are required to issue PDCs as payments. The following PDC currencies are accepted:
• Philippine Peso
• Australian Dollar
• Canadian Dollar
• Euro
• US Dollar
For the Peso-denominated currency, credit is within 3 to 5 days. For other currencies, credit is from15 to 45 banking days. Proceeds are net of bank charges.
All checks must be crossed and made payable to Century City Development Corp.