TERMS OF PAYMENTS:
30% DOWNPAYMENT
70% BALANCE THRU IN-HOUSE FINANCING @ 15% INTEREST PER ANNUM.
BORACAY
Just imagine yourself spending FREE and RESERVED 5-STAR ACCOMMODATIONS
and enjoying days or weeks of fun-filled quality time EVERY YEAR in this tropical paradise
that has been attracting hundreds of thousands of tourists every year.
Whether alone, with your spouse, kids, friends or with your business partners...
you are sure to enjoy your stay and free yourself from the pressures of city life.
Swimming, playing volleyball with friends, having a massage under the palm trees,
island hopping, shopping, trying different water sports activities
horseback riding, partying from dusk till dawn, having a taste of international dishes...
THERE'S JUST SO MUCH TO DO AND EXPERIENCE AT BORACAY!
THE BEST PART IS THAT
ALL THESE AND MORE CAN BE YOURS TO ENJOY
BY SIMPLY OWNING A PIECE OF THE MOST EXCLUSIVE RESORT IN BORACAY.
Newcoast, Boracay - the only "gated" resort in the island is proud to
offer you an opportunity to "own" THE MOST PRIME CONDOTELS in Boracay.
That's right, we're talking about LIFETIME OWNERSHIP as evidenced by
a CONDOMINIUM CERTIFICATE OF TITLE.
VILLAS MARIA & MARGARITA
- the latest addition to our growing number of Boracay villas,
offer you a choice of Studio, 1-BR and 2-BR condominium units
overlooking Hole No. 9 of Boracay's only Resort Golf Course
guaranteeing you a panoramic view of the carpet of greens and
the fairways of the Graham Marsh designed golf course.
PLUS you get to enjoy an abundance of privileges such as:
TRAVEL CONVENIENCE IN GOING TO BORACAY
via our exclusive Welcome Center in Caticlan
WORRY-FREE OWNERSHIP FOR THE FIRST 15 YEARS
since we'll take care of maintenance of your unit, property taxes,
insurance, condominium dues, etc.
ACCESS TO THE FAIRWAYS & BLUEWATER CLUB FACILITIES
including rounds of golf, shuttle services, fine dining at the main clubhouse
3 private beach coves, swimming pools, the Family Clubhouse
a relaxing massage or spa by the paradise cove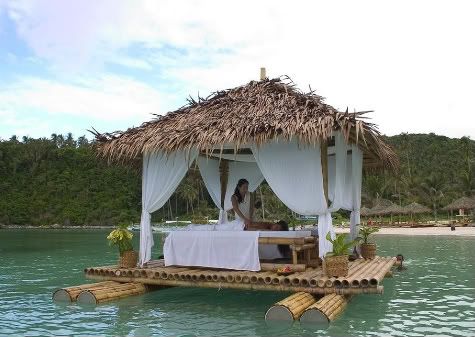 PLUS THERE'S MORE
GET TO ENJOY 30 DAYS OF FREE ACCOMMODATIONS
at your unit or any equivalent unit while the rest of the year,
we operate your unit as a hotel earning you some extra money
yearly from the NET INCOME of the hotel operations.
PROPERTY VALUE APPRECIATION
Being the number 1 tourist destination in the Philippines, property values in Boracay
have appreciated at the average rate of 7% to 9% per annum over the past 5 years.
That's a true hedge against inflation and more than a fair yield to enjoy.
GLOBAL MARKETABILITY
With the worldwide popularity of Boracay as a destination,
selling your property at a later date is open to a global market of takers.
BUT MOST IMPORTANTLY...
Think about the INTANGIBLE benefits you would get out of this investment.
Even 1 or 2 weeks of enjoying quality time in Boracay can mean
saving yourself from having ulcer, hypertension or a heart attack
because you get to relax from the hussles & bustles of city living
A yearly vacation with your spouse
would be a great way to heal the wounds of marriage
A week of quality time with can strengthen the bond between a parent and a child
A generous extension of the accommodation benifits to your relatives
or business partners can build goodwill that they will treasure for a lifetime.
ALL BECAUSE YOU DECIDED TO MAKE THIS SOUND INVESTMENT
AT VILLAS MARIA & MARGARITA IN BORACAY.