Diana Model House at 11k/month with 3 Bedrooms and 2 Toilet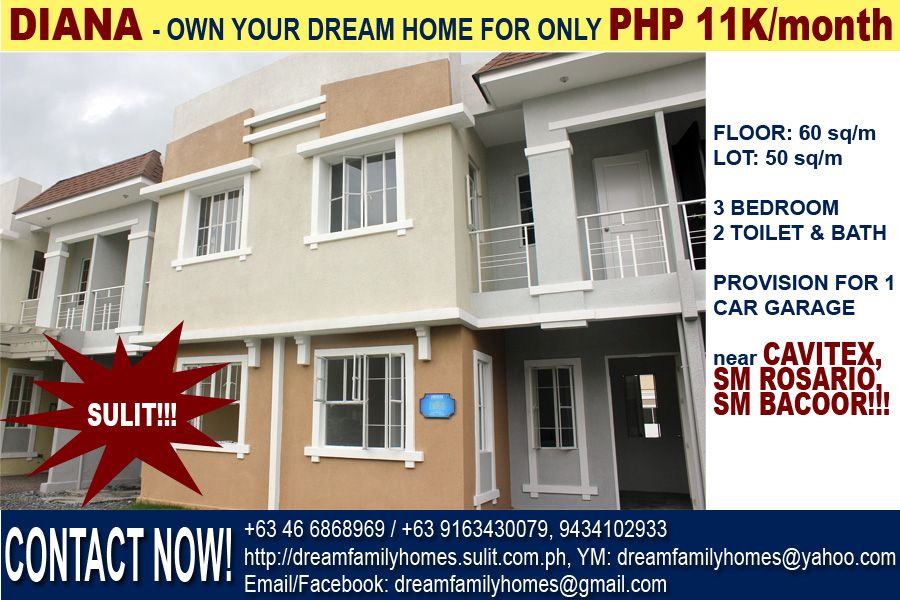 HOUSE FEATURES:
- Living Area
- Dining Area
- Kitchen
- 3 Bedroom
- 1 Toilet & Bath
- Service / Laundry Area
- Provision for Balcony
- Provision for 1 car garage
HOUSE FINISHES:
- Pre-painted long span roofing
- Painted plain cement finish for exterior and interior walls
- Tiled kitchen counter with stainless kitchen sink
- Tiled toilet and bath with ceramic bathroom fixtures
- Plain cement finish for ground and second floors
- Provision for CATV, telephone and aircondition outlet
EXISTING AMENITIES:
- Leighton Hall (Country Club)
- Swimming Pool
- Saint Edward Integrated School (Primary & High School)
- Church of the Holy Family (Catholic)
- Commercial Areas
- Shuttle Service
- Transport Terminal
10-15mins away fr SM Bacoor
30mins away fr Makati and Airport
10-15mins away fr Puregold and Robinsons Imus
15mins away fr Baclaran, MOA, Manila via cavitex
SAMPLE COMPUTATION (Bank Financing)
Total selling price: P1,200,000.00
Total contract price: P1,296,000.00 (including legal misc fee)
Downpayment (12.5%): P162,000.00
Less: reservation fee P10,000.00
Net equity: P152,000.00 (15 months to pay 0% interest)
Monthly Downpayment: P10,133.33
Loanable amount: (10% interest)
Monthly Amortization
5yrs. - P24,650.03
10yrs. - P15,541.78
15yrs. - P12,741.91
20yrs. - P11,499.23
SAMPLE COMPUTATION (In-house Financing)
Total Selling Price: P1,200,000.00
Total Contract Price: P1,254,000.00 (including legal misc fee)
Down payment (30%): P376,200.00
Less: reservation fee P10,000.00
Net equity: P366,200.00 (24 months to pay 0% interest)
Monthly Downpayment: P15,258.33
Loanable Amount: P877,800.00
Monthly Amortization
5yrs.(18% interest) - P22,290.35
10yrs. (21% interest) - P17,550.00
WHY INVEST?
1) Very accesible to Manila and Makati thru CAVITEX. Also, subd
is accesible to Alabang thru Daang Hari Road.
2) Free Shuttle service for residents and 24hrs Bus Going to
Manila/Makati(P25-P35 fare)available

3) With Petron Gas Station, Convenient Stores and Water Station
inside the subdivision

4) Soon BDO,MAYBANK,HSBC,METROBANK WILL BE BUILT INSIDE THE SUBD
5) With existing Kalayaan Hospital and Municipal Hall outside the
subd
6) Also have exsting POlice Post near the entrance gate
7) Now with Saint Edward Integrated School for primary and High
School student inside the subd plus soon to rise Saint Joseph
academy, DELA SALLE and St. PAUL schooloutside the subd.
We have FREE site trippings everyday, just please inform us 1 day
in advance so I can reserve a seat for you.
For more houses to see and how to avail this house please look
for Carol.
CONTACT NO.:
GLOBE: 09163430079
SUN: 09434102933
PLDT: (046)686-8969
Email and Yahoo ID: dreamfamilyhomes@yahoo.com / dreamfamilyhomes@gmail.com
YOU MAY CLICK THIS LINK FOR OTHER HOUSE MODEL - http://dreamfamilyhomes.sulit.com.ph/